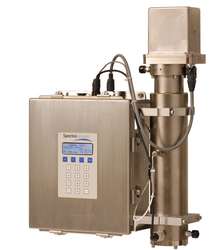 TDL Analyzers for Ethylene Production and Quality Control
Houston, TX (PRWEB) January 23, 2008
SpectraSensors, Inc. will present TDL-based analyzer papers at IFPAC 2008 in Baltimore January 27-30. The papers will discuss the fundamentals of absorption spectroscopy for trace gas analyzers in petrochemical and hydrocarbon gas processing industries.
"Advanced TDL Gas Analyzers for Petrochemical Process Industries," by Xin Zhou, Xiang (Sherry) Liu, Alfred Feitisch
This paper describes how tunable diode laser (TDL) based gas analyzers continue their emergence as a new main stream, on-line gas measurement technique for the petrochemical industry due to superior accuracy, sensitivity, repeatability, reliability, fast response and lower total cost of ownership, compared to incumbent analytical techniques. The paper reviews experimental progress achieved with SpectraSensors' advanced cell platforms and data analysis techniques, demonstrating TDL trace gas analyzers which deliver improved sensitivity, repeatability, dynamic range and high temperature capability for measurement of HCl, H2O, C2H2, NH3, CO2, CO, H2S and O2 in on-line and at-line petrochemical applications.
"TDL Analyzers for Ethylene Production and Quality Control," by Xiang (Sherry) Liu, Xin Zhou, Alfred Feitisch
This paper discusses how, in Ethylene production processes, real-time measurement of certain trace gas species is critically important for the production and quality control. For example, trace pollutants such as moisture (H2O), acetylene (C2H2), carbon monoxide (CO), carbon dioxide (CO2), Ammonia (NH3) and Hydrogen sulfide (H2S) must be maintained at very low concentrations to maintain optimum catalytic efficiency and catalyst life time in polymerization processes. This requires accurate monitoring of these trace gases at various stages of the ethylene production process.
The paper will also present experimental data for SpectraSensors' advanced TDL gas analyzer suite developed for Ethylene Production Process and Quality Control. Employing compact modular sample handling systems, these analyzers have demonstrated 3-sigma repeatability of better than 200 ppb for all above mentioned trace gases, in typical ethylene production streams.
SpectraSensors will also be featuring the following TDL-based product in booth number 105:
SpectraSensors SS2100 Gas Analyzer, an extremely reliable extractive sensor using SpectraSensors' line-spectroscopy technology. The sensor measures concentrations using an IR laser and special software and electronics to determine the concentration of gas without coming into physical contact with it. The state-of-the-art technology was originally developed for atmospheric moisture measurement on Earth and Mars.
More information: http://www.spectrasensors.com Link to IFPAC Program Guide: http://www.ifpac.com
About SpectraSensors: SpectraSensors is a leading manufacturer of optically based gas analyzers and moisture analyzers for analytical process markets. SpectraSensors uses Tunable Diode Lasers Absorption Spectroscopy (TDLAS) in an array of products such as Ambient Air Monitoring Analyzers, Moisture Analyzers and Gas Analyzers for Natural Gas Pipelines and Processors, Petrochemical Refineries and Chemical Companies. SpectraSensors Gas Analyzers measure Moisture (H2O), Carbon Dioxide (CO2), Hydrogen Sulfide (H2S), Methane (CH4), Sulfur Dioxide (SO2), Ammonia (NH3) Ethylene Oxide (ETO) and more.
For More Information Contact: Sam Miller; Tel: (909) 948-4100; SpectraSensors, Inc.; 11027 Arrow Rte., Rancho Cucamonga, CA 91730 http://www.spectrasensors.com.
# # #