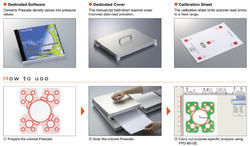 Boston, MA (PRWEB) January 23, 2008
Tekscan, Inc. (Boston, MA), leading manufacturer of real-time pressure mapping systems and force sensors, is pleased to announce a new addition to its product line: the Fuji Digital Analysis System for PrescaleTM.
The measurement data produced by the Digital Analysis System provides Prescale film users with concrete, quantifiable engineering units to support their peak pressure measurements. It is ideal for those whose data needs extend beyond visual assessments of color variation and pressure patterns on the film itself, and who need static pressure measurement data.
Industrial applications include confirming uniform loading between mechanical parts, testing correct machine assembly, and more. The system and film are used in the automotive arena to determine contact pressures, wear patterns, and evenness in brakes, clutches, and gaskets. These are just a few examples of the countless applications and industries served.
The Digital Analysis System for Prescale consists of pressure analysis software, a scanner, a dedicated scanner cover to improve data-read precision, and a calibration sheet. The System digitalizes Prescale film output to produce:
-on-screen pressure distribution
-image enlargement
-cross-sectional distribution
-3-D image display
When customers need dynamic, real-time pressure measurement or force-vs-time data, Tekscan also offers a complete line of dynamic pressure mapping and force measurement systems. Contact us to find the best pressure measurement solution for your application, or use the online pressure measurement device guide.
About Tekscan:
Tekscan is a leading manufacturer of force sensors and complete tactile force and pressure measurement systems. Accurate, simple to use, and extremely cost-effective, Tekscan's sensors have been integrated into a variety of successful OEM products. Measuring both static and dynamic pressure events, their systems provide concrete data for making crucial assessments in industrial, medical and dental applications. Products manufactured range from simple force sensors and force sensing systems to highly complex pressure measurement systems with over 100,000 sensing points. Visit http://www.tekscan.com to learn more.
###