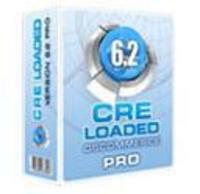 Today's online sellers must begin focusing more on retaining each buyer and increasing repeat purchases. We feel confident the MyStoreRewards system is the right choice for our storeowners
Hudson, FL and Chapel Hill, NC (PRWEB) January 23, 2008
Chain Reaction Ecommerce, makers of the popular ecommerce shopping cart and web store application CRE Loaded and MyStoreRewards, the world's leading marketing service focused on increasing online repeat sales, announce a partnership to help CRE Loaded users increase repeat sales through a pay-for-performance pricing model. The MyStoreRewards module is now available inside the admin panel of all CRE Loaded 6.2 SP1 releases. Merchants can easily sign up for and activate the program in minutes. Current CRE Loaded storeowners can download SP1 for free by visiting creloaded.com
"Today's online sellers must begin focusing more on retaining each buyer and increasing repeat purchases. We feel confident the MyStoreRewards system is the right choice for our storeowners," explains Michael Valverde, CEO of Chain Reaction Ecommerce.
This partnership is the first to marry the pay-for-performance pricing format used by Internet marketing giants Google and Yahoo into the buyer retention and repeat sales space. The MyStoreRewards service for the CRE Loaded platform charges merchants only if their buyers opt-in to the seller's email list and also only if the opted-in buyers spend at least 10% more than non-opted-in repeat buyers.
"Online sellers want to increase their repeat sales," said Brian Lawe, President of MyStoreRewards.com. "The CRE Loaded merchant base expects proven performance for their dollars and we are pleased to join CRE Loaded to deliver that for their customers."
About MyStoreRewards.com:
MyStoreRewards.com and MyStoreMaps.com are services operated by MyStoreCredit, Inc. The company focuses on helping merchants increase sales through innovative online marketing tools. MyStoreCredit, Inc. currently serves over 2,500 online sellers in over 28 countries around the world.
About Chain Reaction Ecommerce:
Founded in 2001, Chain Reaction Ecommerce is the maker of the CRE Loaded ecommerce shopping cart and online store. With more than 100,000 CRE Loaded shopping cart applications in use, Chain Reaction Ecommerce offers its customers complete support as well as a host of ecommerce services; including CRE Merchant for credit card processing, CRE Secure for PCI compliance, EVSSL and business background reviews along with display seals for each, and CRE Messenger for in-store sales and customer service chat. An aggressive software release schedule and numerous partnerships with best-in-class ecommerce products and services companies ensure CRE Loaded storeowners that they will remain at forefront of the ecommerce marketplace well into the future.
###