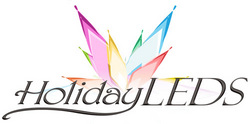 LED technology has been around for more than 30 years but it was largely used only in industrial applications—most consumers didn't even know it existed until recently
Jackson, Michigan (Vocus) January 22, 2008
This holiday season the consumer market was a-buzz with the relatively new holiday lighting product, LED Christmas lights. The new lighting technology boasted energy savings of over 95% and lamp life of 50,000 hours or more. The consumer market embraced this new technology and now many people are looking for LEDs suitable for other applications.
"LED technology has been around for more than 30 years but it was largely used only in industrial applications—most consumers didn't even know it existed until recently," said Timothy Hill, co-owner of HolidayLEDs.com, a company specializing in LED decorative lighting. "I think the Christmas light was a great entry point for the LED into the consumer market," added Hill, "it gave consumers a relatively low-cost and low risk opportunity to sample the new technology."
After wide consumer acceptance of the new LED Christmas lights, the lighting industry has ramped up development and is pushing many new LED products to the market. "Most people have seen LED flashlights in the big box stores but most consumers don't know the LED technology is also available in other applications such as rope light, standard household light bulbs, and landscape lights," said Hill. Although LED technology is still relatively new to the consumer market and most LED products are not available in the big box stores, consumers interested in trying other types of LED lighting can find many options online.
"When we started this business we thought we would be selling during the Christmas season and that would be it," said Philip C. Curtis, co-owner of HolidayLEDs.com, "what we found was that there are many great non-seasonal applications for LED decorative lighting." More importantly, Curtis and his business partners found that consumer demand for LED lights didn't cease after the holidays. "We've had to move quickly to develop new product lines to meet our customers' demands," said Curtis. In response to the growing market for LED lighting and customer demand HolidayLEDs.com added a complete line of LED rope lighting, wedding lights, and other non-seasonal and seasonal lights.
For more information about LED lighting options visit http://www.holidayleds.com.
Contact: Philip C. Curtis
HolidayLEDs.com
1.888.430.6551
phil(at)holidayleds.com
###