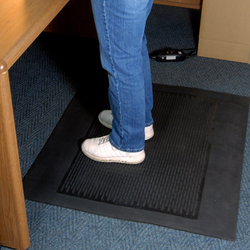 We put radiant heat into a mat that employees can stand on producing enough heat to warm the floor area as well as surrounding objects.
Cleveland, OH (PRWEB) January 23, 2008
Martinson-Nicholls new Greener Heat™ Heated Anti-Fatigue Mats combine cushioning and warmth to provide comfort for workers standing on cold, hard floors. Much of our work force stands on concrete slab floors in environments with little or no heat. Assembly areas, industrial shops, and shipping/receiving areas often require workers to stand for long hours at their work stations. While these areas often employ anti fatigue mats, those mats do nothing to heat the cold, hard floors.
Standing all day on a hard surface with minimal heat can result in loss of productivity due to worker fatigue, worker discomfort and even worker pain in some situations. In winter months and cool environments, cold floors compound the problem by making both conventional anti-fatigue mats and worker's limbs feel even stiffer.
Martinson-Nicholls' Warmer Winter LLC, a leader in heated matting products, recognized the need for economic, green heat for today's work force, and invented a revolutionary heated mat combined with anti fatigue cushioning. According to Dan Ruminski, President, "We put radiant heat into a mat that employees can stand on producing enough heat to warm the floor area as well as surrounding objects." The heated anti-fatigue mat produces a 40 to 50 degree Fahrenheit rise in surface temperature over the ambient work area temperature.
The heated anti fatigue mat is both safe and economical. It comes with its own G.F.C.I. attached to the cord. The molded rubber compound is grease-resistant, and withstands common industrial chemicals and oils. Using approximately 35 watts of energy per square foot, this mat will not balloon your electric bill.
The 36 x 39 inch heated anti fatigue mat is available with a timer option to turn mat on and off automatically. This mat is safe to place on top of existing anti fatigue matting to compound fatigue reduction. Martinson-Nicholls also offers an optional foam pad for under the heated floor mat for those who desire even more cushioning.
About Martinson-Nicholls:
Martinson-Nicholls, has established itself as a leader in custom floor matting, heated floor mats, and safety solutions over the last 25 years.
Martinson-Nicholls provides the customer with the exact size matting needed -- small, large, standard, nonstandard, special shapes and logos. Custom installations are also a specialty of the company.
Anti-slip safety tapes and treads are available in various sizes and textures from hand cut or die cut pieces to full rolls and special shapes. For more information, please visit http://www.floormat.com.
###