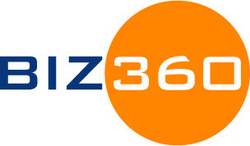 The OnMedia 100 winners have excelled in key strategic areas in the advertising, marketing, public relations, and promotion industry
San Mateo, CA (PRWEB) January 23, 2008
Biz360® Inc., the leading provider of media and market intelligence solutions, today announced that it has been chosen by AlwaysOn as one of the OnMedia 100 Winners. Inclusion in the OnMedia 100 signifies major developments in the creation of marketing tools, services, venues, and advertising, branding, and public relation campaigns. Biz360 was specially selected by the AlwaysOn editorial team and other industry experts spanning the globe, based on a set of five criteria: innovation, market potential, commercialization, stakeholder value, and media buzz.
Biz360 and the OnMedia 100 Top Private Companies will be honored at the OnMedia conference scheduled to occur on January 28-30, 2008 at The Mandarin Oriental Hotel in New York City. This two-and-a-half day executive event will feature technology CEO's from Silicon Valley leading presentations and high-level debates with the global advertising and media establishment, about disrupting user behavior and creating new opportunities in the marketing, branding, advertising, and public relations industries.
Fifty of the top CEO's from the OnMedia 100 will present their market strategies to a panel of industry experts in a "CEO Showcase."
"The OnMedia 100 winners have excelled in key strategic areas in the advertising, marketing, public relations, and promotion industry," said Tony Perkins, founder and CEO of AlwaysOn. "We congratulate them for their success in introducing new tools, services, and venues for marketers to have at their fingertips and for use to take their business to the next level in innovation."
The OnMedia 100 was selected from over hundreds of companies, nominated by a panel of industry experts in the online ad service, technology, community platform, mobile advertising, marketing, and Web analytic sectors from around the world.
Biz360 is a leader in the use of technology and human expertise to transform information into business building insights. The company's pioneering use of innovative data mining and analytics techniques along with natural language processing to deliver actionable insights from traditional media, social media and product opinion information has forever changed the market research and measurement industry.
A full list of all the OnMedia 100 winners can be found on the AlwaysOn Web site at http://www.alwayson.goingon.com/
"We are pleased to be recognized as one of the OnMedia 100 among such a distinguished group of innovative companies," said Brad Brodigan, President & CEO of Biz360, Inc. "We are proud of our achievements in applying technology to help companies make better decisions," he said.
About Biz360:
Biz360 delivers media and market intelligence solutions to Global 2000 business decision makers, providing them with a 360-degree view of their marketplace. The company gathers and analyzes the vast amount of traditional and social media about an organization, its brands, its competitors and its products to deliver real-time insights that help our clients shape market perception, respond to competitive threats, evaluate trends and issues and improve the return on their marketing investments.
Our clients include industry-leading, global companies, such as AAA, Aetna, AstraZeneca and Sun Microsystems. Biz360 can be reached at 866.424.9360 or http://www.biz360.com.
About AlwaysOn:
AlwaysOn ignited the open-media revolution in early 2003 by being the first media brand to launch a community blog network. In 2004, AlwaysOn continued to lead the industry in innovation by engaging its bloggers in a social network. AlwaysOn is also revolutionizing the media business by applying its open-media principles to its executive event series (OnMedia NYC, Venture Summit East and West, On Hollywood, The Broadband Digital, Stanford Summit, and Going Green)and quarterly print "blogozine". No other media brand has dared to create such open interaction with its readers and event participants.
###