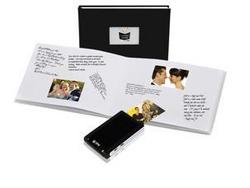 We are very excited to offer consumers yet another choice to capture and record life's moments as they happen
San Francisco, CA (PRWEB) January 23, 2008
Adesso Albums today announced its strategic new product line extension made specifically for ZINK™-enabled photo technology. In addition to the life event celebration market which the company currently serves, the new line targets a rapidly growing segment of the market that includes teens and travelers and accommodates their expectation for instant results/gratification.
ZINK™ (Zero Ink™) is a breakthrough technology to print and experience on-demand full-color digital images and photos - without ink cartridges, ribbons or toner on patented ZINK Paper™. The ZINK™ technology enables a new category of color printers and paper that work as a system to print in a whole new way.
The first ZINK-enabled product - Polaroid's Digital Instant Mobile Photo Printer - was announced at the Consumer Electronics Show in Las Vegas earlier this month. The printer is the size of a deck of cards and produces borderless, full color 2" x 3" photos from digital cameras and mobile phones in less than a minute using a Bluetooth or USB connection. Once the photos are printed, Adesso Albums' line of ZINK™ albums provide a place to store, record notes and cherish those memories instantly. The printers and Adesso Albums for ZINK™ will be available mid-2008.
"We are very excited to offer consumers yet another choice to capture and record life's moments as they happen," said Lesley Mattos, Founder of Adesso Albums. "We believe the ZINK-enabled instant imaging products from Polaroid and other ZINK™ partners will help a new generation of consumers to discover the magic of instant, printed pictures and Adesso Albums will be there to create the tangible memento in the moment."
Adesso Albums' patent pending concept for storing photos instantly has long been popular for special events such as weddings, bridal or baby showers, birthdays, anniversaries, etc. The Adesso Albums for ZINK™ line of products makes even the simplest of occasions - a day at the beach, a girls' night out, an impromptu dinner party - an event to be remembered instantly. The line will consist of two versions of the popular album - an elegant, fixed bound Adesso Album Instant Photo Guest Book® for ZINK for events, and the Adesso Album Instant Photo Journal® for ZINK for more casual applications.
For more information on the Adesso Albums for ZINK™ line of products:
Visit: http://www.adessoalbums.com/album_zink.html
Call: 415.957.9901
Fax: 415.957.9902
About Adesso Albums:
Adesso Albums, Inc. was founded in January 2002 and is headquartered in San Francisco, CA. The Company designs, markets and sells the world's first line of Instant Photo Guest Books®. An Adesso Albums Instant Photo Guest Book boasts the unique combination of photo album, guest book and event diary all in one -- ready to capture and preserve moments and memories instantly. Bridal showers, weddings, family reunions, parties and graduations are only a few of the many occasions to create an Adesso Album. The company's patent pending formula pairs instant Polaroid™ or print photos with guests' hand written sentiments. Albums and accessories are sold in a range of colors and sizes on the company web site, plus through various resellers and affiliates around the globe.
Adesso Albums and the Adesso Albums logo are registered trademarks of Adesso Albums, Inc.
###