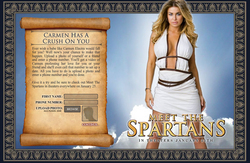 Los Angeles, CA (PRWEB) January 23, 2008
Jetset Studios, one of the entertainment industry's leading online marketing agencies, has recently completed a viral campaign for the 20th Century Fox feature comedy "Meet the Spartans," starring Carmen Electra. The announcement was jointly made today by Jetset Studios co-founders Russell Scott and Patrick Young.
Conceived and developed by Young, the website, Carmen Has A Crush On You, allows visitors to enter their name, photograph and phone number of either themselves (or an unsuspecting friend) to create a customized video interview with Electra in which she talks about her new "boyfriend," reveals a tattoo of his "name" on her body and shows off his "picture" - all digitally inserted into the content. After the interview, Electra uses her mobile phone to call her "boyfriend." A few seconds later, the number entered into the site rings with a personalized message from Carmen promoting the January 25 premiere of "Meet the Spartans."
Regarding the project, Young stated, "This project is a simple, yet truly interactive site that creates an emotional connection between the film, Carmen Electra and the moviegoer. We decided to capitalize on Carmen's stunning allure and comedic talents to deliver a site that entertains, reflects the 'Meet the Spartans' brand and can easily reach the film's target audience."
The movie, set for release on January 25, 2008, is written and directed by Jason Friedberg and Aaron Seltzer. The cast in the spoof movie also includes Sean Maguire (Leonidas), Diedrich Bader (Traitoro), Kevin Sorbo (Captain), Ken Davitian (Xerxes) and Method Man (Persian Emissary). The supporting cast includes Lindsay Lohan, Paris Hilton, Ellen DeGeneres, Paul Abdul and Britney Spears impersonators.
Founded in 1999, Jetset Studios has overseen online brand work for such industry heavyweights as Universal Pictures, Paramount Pictures, DreamWorks Pictures, Sony Pictures, 20th Century Fox and NBC. The company has demonstrated a proven track record to identify and leverage universal pop culture themes to generate brand awareness among targeted consumers, DVD sales, program ratings and box office results, having marketed feature films that boast box office receipts well in excess of $4 billion.
Jetset Studios serves as writer/director/producer Judd Apatow's online creative agency of choice, having produced websites and viral features for the upcoming "Drillbit Taylor", "Walk Hard: The Dewey Cox Story," "Superbad," "The 40 Year Old Virgin," "Talladega Nights: The Ballad of Ricky Bobby" and "Knocked Up," which was The Web Marketing Association's 2007 award winner for Best Entertainment Website. Other major studio titles Jetset Studios has supported include, to name a few, "King Kong," "Bee Movie," Alvin & The Chipmunks," "Untraceable," "The Hills Have Eyes" (and sequel), "Hostel, Hostel 2" "Blades Of Glory," "Failure to Launch," "The Simpsons" series, " "Barnyard: The Original Party Animals" and "My Super Ex-Girlfriend," for which the company was a 2007 Webby Award Honoree for Best Copy/Writing and Best Viral.
For more information on the company, please visit Jetset Studios
###