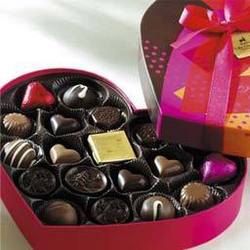 It's the one occasion where buyers really want to impress their sweethearts and price is not the deciding factor in the decision to purchase.
Burlington, VT (PRWEB) January 24, 2008
Lake Champlain Chocolates, gourmet Vermont chocolate maker, presents its Valentine's chocolates for 2008. The new line is available online and on retail store shelves now. Made in small batches from the finest all-natural ingredients, Lake Champlain chocolates are carefully crafted by chocolatiers fanatical about creating products with the honest individuality, charm, quality, and freshness which are synonymous with the spirit of Vermont. The new gifts added for 2008 call back to a time of romantic and playful gestures and pair well with other items such as flowers and champagne.
"Consumers are becoming more sophisticated with their chocolate preferences and Valentine's Day is a holiday about luxury, indulgence & sophistication," said Allyson Myers, Director of Sales. "It's the one occasion where buyers really want to impress their sweethearts and price is not the deciding factor in the decision to purchase."
New for 2008
Lake Champlain Chocolates' newest Valentines Day chocolate offerings mix today's gourmet experience with a touch of old-fashioned charm - 6-piece Old World Truffles gift box with contemporary Valentine imagery and flavors reminiscent of chocolate making from a time gone by; Valentine's Day Heart of delicious, solid dark chocolate with milk chocolate accents, perfect as a party favor or a secret Valentine; the adorable and kissable Valentine's Day Frog of milk chocolate with white and dark detailed accents; Tower of Treasures tiered Valentine's candy gift boxes overflowing with an abundance of chocolate caramels, toffee, mint, nuts, and more.
Heart Shaped Boxes of Chocolate
The luxurious assortment of twenty-two gourmet chocolates in the Grand Heart box includes a variety of truffles in both milk and dark chocolate, raspberry creams, and caramels, all in a keepsake heart-shaped box tied with purple ribbon. The Sweetheart's Assortment tucks eighteen sumptuous chocolates in two stacked, decadent layers. The Petite Heart Truffles box holds eight truffles. Six chocolates are nestled in the Small Heart Box. The Hearts Gift Box is an 8oz. assortment of colorful, foil wrapped dark chocolate raspberry cream and milk chocolate caramel hearts.
Additional Gifts
Five truffles fill the Valentine Chocolate Truffles box. The delectable dark chocolate Raspberry Truffle Heart Throb is completely handcrafted. Additional products include the Be Mine Valentine's Chocolate Gift Basket, Valentine Conversation Squares, Hearts Bags, Heart Pops, and Raspberry Cream Hearts.
Lake Champlain Chocolates offers sweet indulgences that capture the essence of Vermont, the tradition of making fine chocolate, and the pride that goes into each bite. Preservative-free and Kosher-certified, Lake Champlain Chocolates are crafted in small batches from the finest quality Belgian chocolate and select natural ingredients including local Vermont cream, sweet butter, maple syrup, and honey. Lake Champlain Chocolates are available online, toll-free at 1-800-465-5909, through its corporate gift program, in bulk as wedding favors, through its popular Chocolate of the Month Club, at three company-owned retail stores in Vermont, and nationwide at specialty food & gift stores and upscale hotels & inns.
###