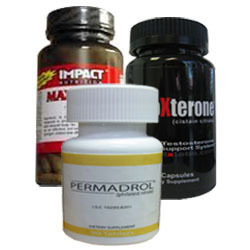 Aurora, CO (PRWEB) January 23, 2008
The most recent anabolic stack at Zupplements.com is touted to be able to "Put on up to 20 pounds of Mr. Olympia type muscle!" over an 8 week cycle. It's called the Muscular Bad Ass Stack and combines three different steroid alternatives. "This may be the most explosive stack ever!" Says Gary Brown, consultant to the Zupplments.com team "It combines TestoXterone, Maxteron, and Permadrol and is designed to dramatically increase testosterone, suppress estrogen and ignite massive nitrogen retention resulting in lean muscle mass gains." The Bad Ass Stack is available in a less expensive 4 week version as well.
Stacking different steroid alternatives together to create a synergistic, enhanced effect is a common practice among bodybuilders and other performance athletes. The theories behind 'stacking' are believed to have come from the early fifties when anabolic steroids were first used in competitive sport. Prescribing a stack of different medications is also a common practice among doctors and other medical professionals today.
Zupplements.com has had a lot of success creating quality supplement stacks that produce results for a wide variety of goals. Both anabolic muscle growth stacks and custom cutting stacks are available. And while this new stack is very powerful, the Zupplements.com team makes it clear that adding lean muscle mass is a process that requires a solid strength training and nutrition program; not just a clever combination of anabolic supplements.
According to the experts, when it comes to bodybuilding supplements, stacking one or two specialty products that focus on one or two main benefits are often the most effective way to go. All-in-one pills and powders are often less effective as they tend to have a lower dose of the included active ingredients.
To learn more about this and other custom anabolic stacks, please visit Zupplements.com or call them toll free at 1-888-987-7748.
###