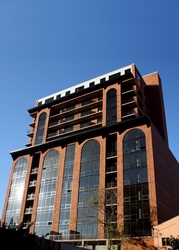 And they receive all this in a state-of-the-art building with elevator access, available parking and a fitness center.
Jersey City, NJ (PRWEB) January 24, 2008
Fields Development Group is reporting Waldo Lofts in the heart of Jersey City's Powerhouse Arts District has reached the impressive milestone of 90% sold.
Even with the award winning building on the verge of a sell-out, some of Hudson County's finest new homes remain, including unique "Brownstones in the Sky." Similar to classic brownstone residences found in Brooklyn and Tribeca, these incredible two-story residences feature stylish, well designed floorplans with open spaces and floor-to-ceiling windows. Some of the homes also boast panoramic views of the downtown Jersey City and Manhattan skylines.
"This is a special opportunity to purchase a home that combines the open floorplans and flowing interior spaces comparable to brownstone-style residences and the convenience and amenities of a modern building," says James Caulfield, Jr., a Fields principal.
"The homes are ideal for those looking for the elegance and grace of a Brooklyn or Tribeca home at a much more reasonable price and are the perfect fit for young couples and growing families who want to enjoy an upscale urban living in a historically-rich and cultural location, but don't want to sacrifice the space.
"And they receive all this in a state-of-the-art building with elevator access, available parking and a fitness center."
With homeownership starting in the upper $400's, Waldo Lofts features a wide variety of condominium residences boasting from 900 to more than 2,600 square feet of living space. In addition to the "Brownstones in the Sky," the building offers spacious one- to four-bedroom loft and duplex style layouts -- some with dens.
Found throughout a number of the home designs are spacious living and dining areas, gourmet kitchens and master suites. Ceiling heights range from 10' to 20', while all of the homes feature a wide assortment of upscale finishes and appointments including Stainless Steel appliances, granite kitchen counter tops and marble tile bathrooms. Some of the residences also offer oversized private terraces.
Situated in the heart of the Arts District, the award winning Waldo Lofts building is significant in the transformation of an under-utilized section of the city into a vibrant, cultural neighborhood that boasts a variety of pedestrian activities and celebrates Jersey City's emerging arts community.
Once completed, the new arts district will link with Jersey City's vibrant Hudson River Waterfront to provide direct access to New York City's major business epicenters. Also planned for the district will be a variety of cultural and entertainment attractions, including theaters, fine restaurants and upscale shopping and boutiques.
The lobby/gallery at Waldo Lofts has played an important role in creating the artist-inspired environment envisioned for the building and district by hosting a series of exhibits displaying the works of local artists. To further enhance the arts-theme, Fields Development has purchased select works from local artists and placed them on display throughout the building.
In addition to its proximity within the arts district, Waldo Lofts is also just steps from a number of convenient transportation options, including the Hudson Bergen Light Rail, the Grove Street PATH Station and New York Waterway's Harborside Ferry Terminal.
For more information on Waldo Lofts, please call (201) 533-9500, or visit the website at http://www.waldolofts.com.
Contact:
George Cahn
CAHN Communications
201-876-3100
###