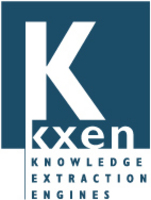 I was drawn to KXEN's proven ability to deliver predictive analytics solutions with real, measureable value to help their customers gain competitive advantage
San Francisco, CA (PRWEB) January 24, 2008
KXEN, the data mining automation company™, today announced that Omid Razavi has joined the company as President of North America operations. Dr. Razavi brings years of strong leadership and visionary business practices with successful enterprise software firms to lead KXEN North America operations through its next stage of business development.
"Omid's proven success leading enterprise software sales and services operations combined with his drive to execution clearly make him an important asset to KXEN," said Roger Haddad, KXEN founder and CEO.
Prior to joining KXEN, Omid Razavi, a Silicon Valley software industry veteran, served as Senior VP of Sales and Operations at Cordys, VP of Professional Services & Technical Sales at Savvion and VP of Professional Services at Vitria Technology. Prior to those appointments, he held senior positions with Renaissance Worldwide and PriceWaterhouse Coopers management consulting firms.
Omid Razavi holds a Ph.D. in electrical engineering and computer sciences from the University of California, Berkeley, and M.S.E. and B.S.E. Summa Cum Laude both in electrical and computer engineering from the University of Michigan, Ann Arbor.
"I was drawn to KXEN's proven ability to deliver predictive analytics solutions with real, measureable value to help their customers gain competitive advantage", said Omid Razavi. "By coupling my passion and experience leading and growing operations to market leadership, strategies for alliances and targeted industry sales, I am convinced that we will take the company to unprecedented growth levels."
About KXEN
KXEN, the data mining automation company, drives next generation customer lifecycle analytics for enterprises looking to compete on analytics. Unlike traditional data mining providers, KXEN offers unmatched automation to integrate robust and accurate decision support into core business processes. KXEN technology delivers large improvements in customer acquisition, cross-sell, and retention applications at more than 500 sites around the world. Founded in 1998, KXEN has headquarters in San Francisco, California and Paris, France. For more information, please visit http://www.kxen.com.
Contact KXEN
Michele Moussavi
KXEN - North America
Tel: +1 415-904-4165
Email: michele.moussavi @ kxen.com
###