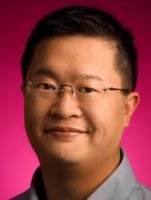 We are honored to be able to sponsor Tom Leung of Google at the BC AIM luncheon
Vancouver, BC (PRWEB) January 24, 2008
Vancouver, BC-based WiderFunnel Marketing -- widerfunnel.com -- is sponsoring Keynote Speaker Tom Leung, Business Product Manager for Google Website Optimizer™, at the February 7 BC AIM Luncheon at the Four Seasons Hotel in Vancouver, Canada. Tom Leung's topic will be "Google's Proven Truths about Online Marketing" and he will show the audience how to run online landing page optimization experiments that immediately lift website conversion rates.
"Companies spend large sums driving traffic to their websites. They want those people to do something -- buy, register, download, etc. -- but only a small percentage of this traffic actually takes action and does what marketers want them to do," Leung says. Until recently, marketers facing this challenge had only one option: spend bigger marketing budgets to drive more traffic to their websites. "Unfortunately, this strategy hurts profitability and lowers marketing ROI, especially when budgets are tight," Leung adds.
Today, a free online testing tool called Google Website Optimizer (GWO) allows marketers to run experiments on their webpages and determine which layout, offer, creative and copy combination delivers the most conversions -- without having to spend additional dollars driving more traffic to the site. In his keynote presentation, Tom Leung will teach the audience how to easily run landing-page optimization experiments that improve online conversion rates and positively impact companies' revenues.
To mark Tom Leung's keynote presentation, WiderFunnel Marketing will give away a free full-service landing-page optimization conversion experiment to improve online business profitability.
"We are honored to be able to sponsor Tom Leung of Google at the BC AIM luncheon," says WiderFunnel Co-founder Raquel Hirsch, one of Canada's most respected marketers, with over 20 years of senior marketing experience, "and giving away a free landing-page optimization experiment to any company in North America allows us to evangelize the importance of optimizing the conversion rate."
The draw, sponsored exclusively by WiderFunnel, will take place at the February 7 BC AIM Marketing Luncheon, but contest entrants don't need to attend in order to win, so all marketers and sales executives are invited to enter to win at http://www.widerfunnel.com/contest. Online registrations close on February 3, 2008 at midnight (PST).
WiderFunnel Marketing, a Google Website Optimizer Authorized Consultant, was founded by Raquel Hirsch and Chris Goward. Together, they share over 30 years of senior marketing experience, a Gold CMA award, and a long list of leading clients including Tourism BC and some of the fastest growing high-tech, eCommerce and affiliate marketing companies in North America. By giving clients the ability to simultaneously test hundreds of versions of their site, WiderFunnel increases their ROI from online advertising investments while lowering their customer acquisition and online transaction costs.
"As a full-service conversion optimization company," Goward says, "we know how to get meaningful test results faster because we know what is worth testing first. Clients get more conversions sooner than if they had decided to guess what's worth testing themselves and tried to do it with limited in-house resources. We've seen conversion improvements ranging from 10 percent to 290 percent on a single conversion experiment!"
For more information about WiderFunnel Marketing, visit http://www.WiderFunnel.com.
Google Website Optimizer is a trademark of Google Inc.
Contacts:
Raquel Hirsch, Co-Founder, WiderFunnel, 604.512.0799, Raquel.
Chris Goward, Co-Founder, WiderFunnel, 604.767.1080
###