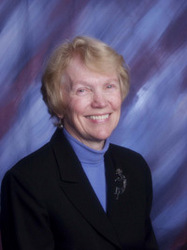 Through my experience in the workforce I found that a lot of workers are busy parents and experienced boomers who have a lot to contribute. That's why I decided to start Needlestack Jobs
Dublin, OH (PRWEB) January 28, 2008
Columbus, OH January 28, 2008 -- Women for Economic and Leadership Development, Central Ohio's premier women's professional economic and leadership development organization, recently honored Carol Clark as one of Central Ohio's top women leaders. Clark is Chief Financial Officer for Needlestack Jobs, a local company that helps working parents balance work and life by connecting them to professional flextime and part-time employers.
Clark will be featured on the WELD 2008 "Twelve Women You Should Know" calendar. The "Women You Should Know" calendar concept was developed four years ago to annually highlight and profile women doing extraordinary work in the Central Ohio community. The leaders were recommended by their professional peers and recognized as a result of their extraordinary skills and leadership roles within their respective fields.
"I am thrilled to be honored as one of WELD's Women You Should Know!" said Clark. "Giving back to the community through my work with Needlestack Jobs has been a rewarding experience for me and I hope Central Ohio will benefit from the flextime job opportunities we have made available."
Base in Columbus, Needlestack Jobs specializes in connecting flextime job-seekers with flextime employers. NeedlestackJobs.com features flextime job postings from leading Ohio employers as well as resumes from highly-qualified, professional candidates.
"Through my experience in the workforce I found that a lot of workers are busy parents and experienced boomers who have a lot to contribute. That's why I decided to start Needlestack Jobs," Clark explains. "A flexible work schedule will benefit these groups by allowing them to enjoy their family life without having to sacrifice their careers."
Prior to starting Needlestack Jobs, Clark was the co-founder of MindLeaders Inc. and served as President and Chief Executive Officer of the company from its formation in 1981 until becoming Chair of the Board in 2006. She has over thirty years of management and consulting experience and an extensive background in computer programming and teaching. Before founding MindLeaders, she was manager of customer service and programming for the OrderNet Division of Sterling Software.
Clark has also directed and implemented many software projects within the information-technology industry and has taught information technology for a number of organizations, including Carnegie Mellon University, Chase Bank, University of Minnesota and IBM. She currently serves on the Foresight Corporation Board of Directors, the EdMap Inc. Board of Directors, the ThirdForce PLC Board of Directors and the Technology Advisory Council for Reservoir Venture Partners.
The other 2008 WELD honorees include: Tara Abraham, Chief Executive Officer, Accel, Inc.; Donna Angiulo, Chief Financial Officer, Sterling Commerce; Jodi Aufdencamp, Founder & President, Mama Mimi's Pizza; Thuy Bowyer, President, M.T. Wellness Clinic; Iris Cooper, Manager, Office of Small Business Development, Ohio Department of Development; Barbara Kunz, Vice President, Strategic Planning and Business Development,Battelle Memorial Institute; Teresa Long, Health Commissioner, City of Columbus; Marcy Raymond, Principal, Metro High School; Shirley Rogers-Reece, Vice President & General Manager, McDonald's USA, LLC; Jean Schelhorn, Associate Vice President for commercialization, The Ohio State University; Isabel Toth, President, Community Properties of Ohio Management Services, Chief of Staff, Ohio Capital Corporation of Housing.
Those interested in learning more about Carol Clark and and her work providing flextime jobs for a better work life balance should visit http://www.NeedleStackJobs.com
About Needlestack Jobs
NeedleStack Jobs specializes in the modern work day, believing that in today's world, the best and the brightest professionals are looking for meaningful work and a flexible schedule. Which means smart businesses are also looking to hire them. That is why NeedleStack Jobs has created a website where flextime professionals and employers may connect. NeedleStackJobs.com gives employers quick, convenient access to a bank of well- qualified flextime professionals while helping professionals find great jobs that also offer a more flexible schedule than most.
About Women for Economic and Leadership Development ("WELD")
WELD, founded in 2003, is dedicated to addressing issues of economic development for women. The organization currently has 250+ individual members and six corporate members and through programs and services, WELD provides women with specific tools and skills needed to advance their economic status. We also advocate for corporate strategy and public policy supporting women's economic equality. Our efforts are aimed at increasing the number of women who are active participants in the leadership of area businesses, civic organizations, and government. To further the mission of WELD, the organization conducts regular monthly meetings featuring a wide range of speakers, along with some select special programming and special initiatives throughout the year. These events include nationally recognized experts on a topical message, along with representatives speaking on such important topics as leadership development, business development, public policy, and personal and professional growth.
###