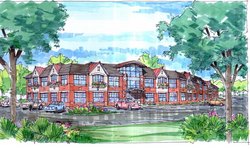 Each year, we explore methods to expand our real estate development activities, enter new markets, and grow our company
East Brunswick, NJ (PRWEB) January 24, 2008
The Teicher Organization will kick off 2008 with several important initiatives designed to expand its presence in the metropolitan New York region.
The activities include new projects to strengthen the East Brunswick, N.J.-based firm's already extensive portfolio of residential and commercial real estate developments, as well as the introduction of new and exciting programs on the entertainment and restaurant fronts, according to Fred Teicher, president of the company that bears his name.
Most notable, Teicher is preparing to break ground on a new two-story office building at the intersection of Cranbury and Fern Roads in Middlesex County's East Brunswick Township. The office park -- which will house Teicher's corporate headquarters - features 32,000 square feet of Class "A" professional office space.tt
Teicher is also moving forward with plans for two new urban redevelopment projects. The company will spearhead the revitalization effort underway surrounding the NJ Transit Light Rail RiverLINE Station in Riverside, N.J. The Township has officially designated Teicher as exclusive redeveloper for an extensive portion of the Light Rail redevelopment zone.
Teicher's will initially create a new mixed-use residential and commercial neighborhood on the site of the former Zurbrugg Memorial Hospital on Pavilion Avenue and three adjacent parcels. Preliminary plans call for a $100 million development compromised of 430 residential condominiums and townhomes, along with retail and commercial office space. The new development, which is located across from the NJ Transit Light Rail Station, is within the New Jersey Department of Transportation's (NJDOT) Transit Village initiative area.
Other significant projects Teicher will undertake in 2008 include the conversion of the existing Salvation Army building on the corner of Fifth Avenue and Kingsley Street in Asbury Park, New Jersey into a new collection of two- and three-bedroom luxury condominium homes. Situated in Asbury Park's re-emerging beachfront corridor, the new community - to be called Majestic on the Park - will serve as a significant step in the much-heralded revival of this once prominent Jersey Shore city. In addition to its residential component, Majestic on the Park will feature first-floor retail space and on-site parking.
"Each year, we explore methods to expand our real estate development activities, enter new markets, and grow our company," says Mr. Teicher. "For example, several years ago we introduced our first residential offering in Pennsylvania and now have more than 300 homes underway in two new-home neighborhoods.
"2008 will be no different. This year we plan to capitalize on today's competitive housing market and become involved with some of New Jersey's most exciting revitalization efforts in Riverside and Asbury Park. We will also continue to increase our presence in suburban and urban geographic locations by aggressively pursuing new land opportunities in New Jersey, New York and Pennsylvania."
The multi-faceted Teicher Organization has also announced new programs and key improvements in its entertainment and restaurant interests. The company will begin extensive renovations to the Excelsior, a 36,000 square-foot full-service banquet hall it owns and operates in Manalapan, N.J. The renovations - which include upgrades to the exterior façade and interior elegant features - are designed to improve the banquet experience by offering a state-of-the-art facility.
"Due to strong demand, we will also roll out a new off-premise catering and event planning program at Excelsior to provide our clients the same elegant and professional service they customarily receive at an on-premise event," Mr. Teicher points out. "The program will offer customized packages to suit the needs of everyone and develop an off-premise event that exceeds expectation."
For additional information on The Teicher Organization, please call 732-698-2655 or visit http://www.teicherorg.com.
About The Teicher Organization:
During its 30-year history, The Teicher Organization has been a recognized leader in real estate development. The company is one of the fastest growing developers of fine residential and commercial properties throughout New York, New Jersey and Pennsylvania. Teicher's diverse portfolio of products include single-family home developments, townhome communities, planned unit developments, office complexes and retail and entertainment facilities.
Contact:
Rob Kelly
CAHN Communication
rkelly(at)cahncomm.com
201-876-3100
###