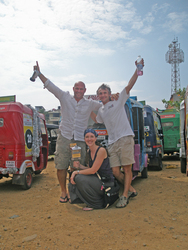 It was sheer chaos, danger, camaraderie, and the Indian people we met were so wonderful.
Los Angeles, CA (PRWEB) January 24, 2008
In India this month, three American friends took top honors in the third annual ''CEAT Classic Autorickshaw Rally''; an event described by organizers as a ''race for the clinically insane.'' Driving a simple autorickshaw for as many as 13 hours a day, ''Team Namascar,'' as Giampiero Ambrosi, Konstantin Othmer, and Meghan Harken called themselves, beat out 27 other teams for the title. In a land that has the sad distinction of having the world's highest rate of traffic fatalities, this was no easy feat. To claim victory, the team braved dangerous nighttime driving, Byzantine directions, and cratered roads.
The event, planned by an organization called Indian ARC, was created to draw attention to the issue of road safety, as well as to the needs of area children. Throughout the race, the teams stopped to visit schools and complete challenges created by race organizers. Twenty-eight teams from around the world competed: four crashed, three never made it to the end, one dropped out. Sponsored by his company, VirtualTourist.com, team member Giampiero Ambrosi said of the event, "It was sheer chaos, danger, camaraderie, and the Indian people we met were so wonderful."
Ambrosi, a Brown University graduate who has been the general manager of Virtualtourist.com since 2000, signed up with pals Othmer and Harken early last year. Based on a system of challenges, the race was also kept ''green'' as 6,000 saplings were planted to off-set the carbon emissions generated by the event. On the final day of the punishing race, the team was awarded the winning trophy - a chromed version of the autorickshaw meter (autorickshaws are used as taxis in India), and agreed that they would do it again in a heart beat.
About VirtualTourist.com
VirtualTourist.com is one of the largest online travel communities in the world and a premier resource for travelers seeking an insider perspective on travel information, from Las Vegas hotels to New York City restaurants. At http://www.virtualtourist.com, real people share real advice on places they've traveled as well as their hometowns; they research and plan trips, and they interact with other avid travelers via travel forums and email; over six million travelers use the site monthly. VirtualTourist boasts more than 1.5 million travel reviews and 3 million photos on more than 25,000 destinations worldwide. Unbiased, user-generated content on Hotels, Attractions, Local Customs, Tourist Traps and much more is posted entirely by VirtualTourist's more than 960,000 registered members from over 220 countries and territories, and the site's Trip Planner feature allows users to create custom print-and-go travel guides. Among VirtualTourist's awards and accolades: 'Sites that Changed Our World,' The Guardian; 'Favorite Website,' Newsweek; '35 Best Travel Sites,' Travel Leisure.
###