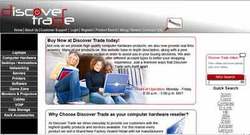 Our company sees an opportunity to provide this new content as a platform to progressively add media richness
Montrose, CO (PRWEB) January 28, 2008
Leading independent distributor and reseller of computer technology products and services Discover Trade is proud to announce an expanded product offering. The initial product expansion will provide customers and businesses access to more than 10,000 new IT products, with the further gradual addition of products leading to client access to more than 800,000 products from leading manufacturers, including LCD flat screen monitors, laptop accessories and wireless network routers. Discover Trade, unlike many other online retailers, specializes in original retail products, rather than "white box" or bulk items.
The company reports that their current offerings of laptops and notebook accessories from leading manufacturers, including Lenovo, IBM, HP, Sony and Toshiba will now be expanded to include products from leading manufacturers such as 3Com, Acer, Cisco, Watchguard, Netgear, D-Link and many others. This month, the company is featuring new retail, factory-sealed products from Nortel Networks. From there, more product lines will be added, along with new website functionality, focusing on updating real-time customer service. Discover Trade's vision is to create an environment that provides the ultimate shopping experience online. They are actively pursuing methods to allow shoppers to enjoy a shopping experience normally only found at brick and mortar stores.
"Our company sees an opportunity to provide this new content as a platform to progressively add media richness," said Christopher Cuellar, Discover Trade's Director of Business Development. "Through this we can create a community of dynamic content to create an engaging shopping experience."
Some of the company's most popular items are wireless network routers and LCD flat screen monitors, but the product expansion will take Discover Trade into new markets, serving mobile professionals, businesses, schools, and local and federal governments.
Added Cuellar: "We are actively considering and implementing ways to differentiate ourselves from our competitors by embracing web tools and services, making full use of these for our clients and partners." As a young company, Discover Trade is focused on a new way of doing things, with visual media including product installations and demonstrations at the forefront of its consumer-friendly business model.
To learn more about Discover Trade, or to view the company's selection of products and services, including laptops, notebook batteries, network switches, and LCD flat screen monitors, visit DiscoverTrade.com.
About Discovertrade.com:
Discover Trade is a leading independent distributor and reseller of computer technology products and services. The company stocks items from many manufacturers, including 3com, Cisco, Juniper, HP, IBM, Lenovo, Watchguard, and many others. The company constantly strives to innovate and further develop the technology distribution channel, and has gained a reputation in the industry for forward thinking. Discover Trade is based in Colorado.
###