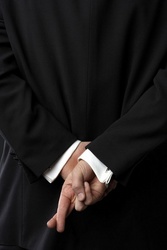 what she doesn't know, won't hurt her
Phoenix, AZ (PRWEB) January 31, 2008
Over 14,000 recently-unearthed messages confirmed the infidelity between married Detroit Mayor Kwame Kilpatrick and his married Chief of Staff Christine Beatty. The pair had an intimate relationship in 2002 and 2003. Noted infidelity expert, Stephany Alexander says, "Politicians cheat for a number of reasons, which can include everything from relationship problems to seeking the thrill." Alexander adds, "Politicians cheat just as much as non-politicians. They just get more attention because they are in the public eye."
Beatty and her husband divorced in 2006 and Kwame remained married. The text messages seem to contradict what they both said under oath about their relationship last summer, denying their relationship, and included declaration of their love for each other, sexual talk, and evidence of arranged meetings in Detroit motels and on out-of-town business trips.
So why would Mayor Kwame risk his career, perjury charges and his wife and three sons by having an affair with someone he worked with?
According to an Infidelity Poll conducted by WomanSavers.com, of 143,873 women, 54% said yes, they caught their partner cheating red handed, 35% said they suspected but never caught him and a mere 10% said no. With statistics like these from average people, it shows why politicians are even at greater risk for adultery since they are in the public eye.
Here are some of the top reasons why politicians are often found cheating.
1. Because they have the opportunity to: Many politicians are used to having people fawn over them which the average person does not. Since politicians frequently travel and are placed in social situations, it is easier for them to have the opportunity to cheat. Former President Bill Clinton and New York Mayor Rudy Giuliani dealt with similar scandals while in office.
2. Poor self-esteem: Even though politicians may seem like confident people, many still suffer from low self-esteem. Cheating can feed a person's ego by making them feel desired or important.
3. For the thrill. Some politicians may cheat simply because they want something new, different and exciting. They may cheat because they want to experiment with new sexual things their current partner will not partake in. That's why politicians don't always cheat with women who are more attractive than their partners.
4. Relationship problems. They may have fallen out of love, grown apart or have poor sexual relations. Politicians may stay in a bad relationship for various reasons, such as children or finances. If their sexual needs are not being met at home, they may seek sex elsewhere but keep their poor relationship going for outside appearance sake.
5. To see if they can get away with it. If a politician has the attitude of "what she doesn't know, won't hurt her," he may cheat to see if he is sneaky and smart enough to get away with it. Many wives even stay with their cheating politician if they are discreet about their affairs to avoid public embarrassment.
About the author:
Infidelity Expert Stephany Alexander, B.A., Author, Women's Speaker is the founder of WomanSavers.com, one of the most popular (top 5%) women's sites receiving millions of hits per month.

Founder - highest trafficked women's infidelity forum on the net
Founder of Largest On-line Database of Men in the World
Author of 'Sex, Lies and the Internet"
Author of over 100 infidelity articles on unfaithfulness and relationships
Author of 22 relationship quizzes
Internet Polling Expert on infidelity issues, surveying 300,000+ women in relationship polls
Creator of 9 women's comedy cartoon e-cards, including one Claymation
Creator of 6 women's on-line games, one arcade quality
Ms. Alexander is frequently called on by the media as the nation's leading Infidelity Expert. Her views on cheating have been featured on: FOX, Mike & Juliet Show, E! Entertainment, Esquire Magazine, Glamour, USA Today, Wall Street Journal, NY Times, Associated Press, KROQ, KIIS, Sirius Satellite and countless radio shows and on-line media.
To interview Stephany Alexander, email womansaversatwomansaversdotcom
###