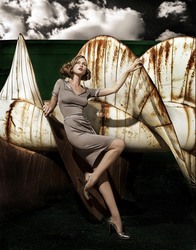 Dallas, Texas (PRWEB) January 28, 2008
PinkMemo.com Dallas Edition is the premiere online fashion and style publication that truly represents Dallas as a fashionable and luxury destination. From Dallas, New York, L.A. and London, PinkMemo.com reaches a targeted fashion-savvy audience with local, national and international online visitors.
PinkMemo - Dallas will celebrate its one-year anniversary with the debut launch of Koppani and the Fall/Winter 2008 Womenswear Collection. The fashionable Pink Chic party held on Thursday, January 31st at the W Hotel Dallas - Victory will kick-off the New Year in celebration of style, luxury and fashion in Dallas.
Fashion Visionary and Founder of PinkMemo.com Maxine Morgan Trowbridge said "PinkMemo Dallas is very much the sounding board for launching other cities later this year. Anyone searching online to find out about fashion life and the shopping scene in Dallas, gets a one-stop shop by visiting PinkMemo - Dallas. The Dallas edition has been embraced by the local fashion community and 2008 is going to witness incredible growth for Dallas and PinkMemo.com, it's very exciting times".
The exclusive invitation only event will consist of the style shakers and movers of Dallas and the social scene. Guest will gain pink velvet rope access to join the intimate lounge ambience of the Social Room. Guests will sip Veuve Clicquot Rosé champagne, nibble delicious hors d'oeuvres and enjoy pink birthday cupcakes while Koppani presents their debut launch of the Fall/Winter 2008 Collection.
For further details on this event, visit: Pink Chic Anniversary Party
PinkMemo.com is a free monthly email memo, blog and website that highlights the latest trends, promotes new stores, online boutiques and designers, and gives readers the inside scoop on the local fashion and shopping scene.
ABOUT
PinkMemo: Pink Memo is an online publication that reports on fashion, style and luxury lifestyles in metropolitan cities and their local shopping neighborhoods. A stylish destination for savvy shoppers that highlights the latest trends, reports on local stores, covers online boutiques, showcases new designers and gives readers the inside scoop on their local fashion and shopping scene. Pink Memo is an e-marketing partner for clients that want to achieve online advertising and e-communication goals within a specific demographic. Pink Memo provides multi-channel communications, via: - website, email marketing, online shopping guide, fashion blog and signature events.
Visit: http://www.PinkMemo.com
Koppani: Womenswear Collections, Koppani was founded in 2006 by fashion designers Zsofia Mezey and Sandra Zelionkaite. Brought together by a mutual love for art and fashion, the two found their chemistry electric and began creating together immediately right on Zsofia's living room floor. They are a perfect compliment to one another, playing off each other's strengths and talents to produce the trendy yet timeless Koppani label.
Visit: http://www.Koppani.com
SPONSORS:
Veuve Clicquot Rosé
Veuve Clicquot put its mark in the history of champagne by being the first House to ship rosé. Faithful to its motto, "Only one quality, the finest", Veuve Clicquot forged itself a reputation as "rosé champagne expert" thanks especially to its Vintage Rosé champagne, whose quality has been praised all over the world. As the Rosé expression of the Brut Yellow Label, the flagship of Veuve Clicquot's thrilling and vibrant style, Veuve Clicquot Rosé is the instinctive choice for distinctive and romantic celebration. Its superb rosé color with coppery accents brings an additional touch of audacity, modernity and romanticism… so Clicquot!
Visit: http://www.veuve-clicquot.com
W Dallas - Victory. W Hotels is a global lifestyle brand with 21 properties in the most vibrant cities around the world. Inspiring and indulging its guests with thoughtful, refreshing and stylish experiences, signature restaurants, bars and destination spas, W has become the fastest growing luxury hotel brand in the world. Each hotel offers a unique mix of innovative design, comfort, and cultural influences from fashion to music to art and everything in between. W's first residential property, W Dallas-Victory, opened in June of 2006, and soon thereafter was named a Forbes Magazine "Top Business Hotel." W Residences, offering the W lifestyle at home, have been announced for Scottsdale (2007), Fort Lauderdale (2008), Downtown New York (2008), Buckhead (2008), Hoboken (2008), Philadelphia (2009), Downtown Atlanta (2009), South Beach (2009), Hollywood (2009), Phoenix (2009), Austin (2010), and Las Vegas (2010). Internationally, W has announced plans for hotels in Hong Kong (2008), Istanbul (2008), Doha (2008), St. Petersburg (2008), Santiago (2008), Milan (2008), Athens (2008), Shanghai (2009), Dubai-Festival City (2009), Barcelona (2009), Dubai-The Palm (2009) and Guangzhou (2010). W's first Retreat & Spa, W Maldives, opened in September of 2006 and in March of 2007, received the prestigious Travel + Leisure Design Award for Best Resort. W has plans to open Retreat & Spa hotels in Vieques (2008), Koh Samui (2008), and Verbier (2009), the latter of which will serve as the brand's first ski retreat.
Visit: http://www.whotels.com
Cymbidium Flowers. Cymbidium offers premium floral arrangements, photography, as well as event design and production services that include but are not limited to custom gifts and invitations! Just like the fashion industry Cymbidium produces "collections" that are new and innovative and a perfect solution to all of your floral and event planning needs!
Visit: http://www.cymbidiumflowers.com
Women That Soar. Women That Soar is a media and content development company, created for women by women. We are based in Dallas, Texas. We provide women with online professional, personal and lifestyle information. We are a platform for helping connect women executives, entrepreneurs, professionals and leaders. We help women promote who they are and what they do. We are building a community of women that will help women with work/life balance, increase their network and net worth.
Visit: http://www.womenthatsoar.com
NK Buy Request. Buy Request is the Ultimate Must-Have Accessory for women and men who want to look fabulous every day. Nancy, founder of Buy Request, has quickly become the secret weapon of many well-dressed women and men in Dallas-Fort Worth and beyond. She brings her 25 plus years in the luxury retail market (Neimans, Saks, Barneys) into your closet where everyone receives her trademark "wardrobe customization" treatment to hone in on your unique style, creating a one-of-a-kind, head-to-toe, age-appropriate and effortless attire.
Visit: http://www.NKBuyRequest.com
Press Contact:
Tayler Carson Sandvick
O: 214.334.6566
E: Tayler @ TayleredPR.com
W: TayleredPR.com
# # #