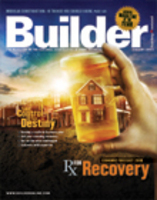 They are doing a lot to reduce inventory and cut costs, yet so much depends on national economics and other factors that are simply out of their control. It's a stressful time for everyone involved.
Washington, DC (PRWEB) January 26, 2008
If you thought 2007 was hard, think again: analysts warn builders of even tougher times ahead, citing the ongoing housing recession and other economic woes. For its January cover story, "Rx for Recovery," BUILDER asked experts to provide a realistic view of the housing recession and the factors needed for it to turn around.
The experts agreed that home builders who reduce their inventory will fare much better in the long run. Unfortunately, the same economic forces that deepened the housing recession also dropped demand to an all-time low. Buyers lack confidence, and credit conditions need improvement. Experts believe that because of this, a number of builders will go bankrupt before the year's end.
"The situation leaves many builders feeling helpless," said BUILDER's Editor in Chief, Denise Dersin. "They are doing a lot to reduce inventory and cut costs, yet so much depends on national economics and other factors that are simply out of their control. It's a stressful time for everyone involved."
"Survival Instinct" gives builders a turn at speculating about their futures. The article gathered home builders for roundtable discussions in Washington, D.C., Chicago, and Costa Mesa, California. While all have experienced hardship during the housing recession, none will admit defeat. Larry Burrows, president of Winchester Homes in Bethesda, Maryland, sees the economic struggle as a signal that it's time to reevaluate business strategies. Jay Moss of Mosaic Homes, a new company that launched last October, sees some growth opportunities ahead.
"Good Neighbors" is a design feature that takes a look at builders pursuing infill development. High land prices have made this form of construction an appealing choice for many builders, but teardowns often pose challenges in spite of their economic benefits. Community resistance and zoning laws can thwart an otherwise perfect project. This article explores five projects whose builders gained neighborhood approval.
Other featured articles from BUILDER magazine's January issue:

"Directional Signals" - Builders can get lost when they only follow job growth in their search for new markets.
"Spiff Up Your Standing Inventory" - Builders share their strategies for moving houses that need to be sold --or resold.
"10 Things You Need to Know about Modular Homes" - The market is slow and your company could use a shot of adrenaline. Modular home manufacturers say their products can help you revolutionize your business. They could be right, but first you need to know a few things.
BUILDER Online offers additional help. In January, Builder TV will provide video coverage of the roundtable discussions from the article "Survival Instinct." Mid-February, BUILDER Online will re-launch with a streamlined look, expanded search capabilities, and many new features. Also in February, BUILDER Online will offer exclusive coverage from the International Builders' Show. For more BUILDER features, past BUILDER issues, and other information, visit BuilderOnline.com.
About Hanley Wood:
Hanley Wood, LLC, is the premier media and information company serving housing and construction. Through four operating divisions, the company produces award-winning magazines and Web sites, marquee trade shows and events, rich data and custom marketing solutions. The company also is North America's leading publisher of home plans. Hanley Wood Business Media (Washington, D.C.), publishes 36 award-winning residential and commercial construction titles, including BUILDER, REMODELING, CUSTOM HOME, CONCRETE CONSTRUCTION and residential architect. Hanley Wood Business Media also offers the construction industry's foremost collection of Web sites, including BUILDER ONLINE, REMODELING ONLINE, and ebuild, the comprehensive online guide to building products, as well as the largest collection of house plans online through eplans.com and Dream Home Source.
Founded in 1976, Hanley Wood is a $250 million company owned by affiliates of JPMorgan Partners, LLC. CCMP Capital Advisors manages the Hanley Wood investment for JPMorgan Partners.
###