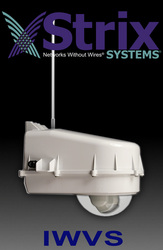 It's not only the most robust wireless video surveillance solution in the industry, it's unattainable by others trying to emulate our performance, power and versatility.
Calabasas, CA (PRWEB) January 29, 2008
Strix Systems, a worldwide leader in high-performance wireless mesh networking, and Dotworkz Systems today announce the availability of the highest performance, Integrated Wireless Video Surveillance System (IWVS) -- the industry's only integrated wireless mesh network system specifically designed for optimal high-quality delivery of IP video surveillance over wireless/WiFi mesh networks in a single easy to deploy packaged design.
Strix Systems patented high performance hardware and software are integrated into the Dotworkz D2 unique vandal-tough weatherized enclosures for IP-enabled Intelligent Pan-Tilt-Zoom (PTZ) cameras. The integration of Strix Access/One Edge™ capabilities give the IWVS the ability to achieve robust, continuous high throughput and low latency via Strix intelligent radio algorithms that dynamically adjust to the environment. Maximum power enables the greatest signal strength, receive sensitivity and optimal channel selection for the most robust wireless connectivity and highest achievable throughput.
Industry's First High-Power DSRC-C 4.9 GHz Wireless Video Surveillance System
The IWVS includes high power 802.11a and is the industry's only wireless video solution supporting the most rigid compliance to high-power 4.9 GHz for public safety deployments. 802.11a and 4.9 GHz radios provide secured/encrypted WiFi access to the wireless mesh network. IP Video is switched at high-speed between radios and the IP camera connected Ethernet port while Strix Virtual/One™ and Strix Priority/One™ provide packet prioritization and Quality of Service throughout the network for the most reliable, uninterrupted streaming of high quality video. Layer 2 Network Address Translation (NAT) and Dynamic Host Configuration Protocol (DHCP) enable self-configuration which is fully manageable by Strix Systems Manager/One™ and a compliment of industry leading SNMP (Simple Network Management Protocol) managers. Video and recording management is enabled by the IP video surveillance camera and/or client-server application of choice. The IWVS optionally includes an 802.11g radio for localized wireless client/user access supporting voice, video and data applications.
"The Integrated Wireless Video Surveillance System provides excellent performance and has proven itself to be a valuable solution for our customers," said Sandy Bendremer, vice president, Galaxy Internet Services, "for our public safety installations, officers connect to the IWVS from anywhere on the wireless mesh network to view live or recorded video."
IWVS for Outdoor and Strategic Security and Surveillance Applications.
The IWVS's performance and range enable a wide range of applications creating an end-to-end video broadband wireless experience. Not only for stationary applications, the IWVS can be utilized for stationary, semi permanent or strategic and even mobile applications. The IWVS comes in a variety of configurations including: D2 COOLDOME™ for climates where temperatures reach a scorching 150° F(66° C) or higher. The thermo-electric solid state cooling system automatically maintains temperatures of 45° F (25° C) utilizing high-flow fans to remove heat with-out air exchange into the sealed housing, control humidity which causes lens fogging and component corrosion. Alternatively, the D2 "RING OF FIRE" heated interior system provides 360 degrees of radiant heat around the interior to prevent cameras and components from freezing in climates down to -40° F(-40° C).
"The IWVS marks a significant achievement in the surveillance industry and public safety," said Steve Coffelt, Director of Product Management for Strix Systems. "It's not only the most robust wireless video surveillance solution in the industry, it's unattainable by others trying to emulate our performance, power and versatility."
"The IWVS is a state-of-the-art system that is a much needed addition for public safety, municipal and industrial enterprise WiFi mesh broadband networks," said Rob Timm, president of Connectronics. "We're excited to add the IWVS to our current set of Strix Access/One Edge™ and Strix Access/One Mesh™ products we distribute".
Availability and Pricing
For more information on the IWVS please contact Connectronics at 800-366-3780 or go online at http://www.strixsystems.com/inforequest-IWVS.asp
For Strix latest video case study on public safety, municipal networks and railway networks please go to: http://www.strixsystems.com/video/missioncritical.html.
To request Strix Systems white paper entitled Video Surveillance over Broadband Wireless Networks go to: http://www.strixsystems.com/whitepaperrequest-surveillance.asp
See the IWVS live at these select industry events:

Milestone Systems MIPS2008 February 5th-9th
International Wireless Communications Expo (IWCE) February 25th & 26th.
For event details visit: http://www.strixsystems.com/events/event.asp for details.
About Strix Systems
With over 500 customers in over 30 countries worldwide, Strix Systems is a worldwide Leader in Wireless Mesh Networking, in market share (according to Heavy Reading, Infonetics and In-Stat) and technology (Iometrix). Strix's Access/One products are the industry's only modular (chassis-based) mesh systems, delivering the largest capacity, highest throughput and best scalability. This new generation of products provides the broadband mobility and reach to support voice, video, and data applications. Sold globally by a network of first-class distributors and integrators, Access/One solutions have been deployed in hundreds of networks worldwide, outdoor and indoor, for service providers, metros, public safety, government, energy, manufacturing, transportation, hospitality, education, enterprises, and residential markets. For general information please visit http://www.strixsystems.com. For Strix Systems Partners please visit http://www.strixsystems.com/partners.
About Dotworkz Systems
Since 1998 Dotworkz has been focused on network based video product designs, introducing the first PTZ controllable streaming network camera on the West Coast. Dotworkz has evolved with the security industry to provide partners worldwide with reliable, state of the art video monitoring hardware and design services. It has introduced many cutting edge products including innovative environmental enclosures and high-performance wireless video systems that have been instrumental in the development of critical video infrastructure for defense, homeland security, transportation and private interests. To learn more about Dotworkz please visit http://www.dotworkz.com
NOTE: Strix Systems and Access/One Network are trademarks or registered trademarks, in the United States and certain other countries, of Strix Systems. Additional company and product names may be trademarks or registered trademarks of the individual companies and are respectfully acknowledged.
###