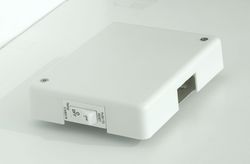 Greenville, SC (Vocus) January 28, 2008
Prescolite has introduced its ArchiTrak Current Limited Device (AKTCLC), a track solution for building spaces having maximum wattage allowances. The AKTCLC is designed for energy conscious applications that limit power consumption to achieve compliance with energy codes and to assist in complying with California Title 24.
Current limiter devices are available in maximum wattages of 120W, 300W, 600W, and 900W.
The device acts as a circuit breaker and trips the power off should the track be lamped beyond maximum lighting load. Additionally, tamper resistant screws are supplied to prevent the altering or damaging of original lighting design after the job is complete.
The canopy consists of a steel backplate, designed to fit a standard 4-inch square or octagonal j-box, and an injection molded plastic canopy to accommodate one or two current limiting devices.
Prescolite, a division of Hubbell Lighting, is a major manufacturer of high performance down lighting, track lighting, and surface lighting serving commercial, industrial and residential markets. Visit http://www.prescolite.com for more details on Prescolite's newest addition.
###