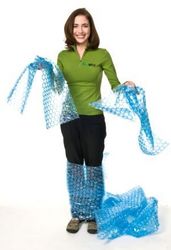 Sunlight, heat, and water are required in order to stimulate the decomposition of Bio-Bubble and it will not degrade inside a box or in a warehouse
Austin, Texas (PRWEB) January 29, 2008
EcoBox, the #1 seller of used moving boxes in Austin has just made it easier for you to Go Green the next time you move or ship a package. An already environmentally conscious company, EcoBox is now beginning to offer Bio-Bubble to its customers at the same cost as regular bubble wrap. This biodegradable bubble wrap is non-toxic and will not harm the environment, animals or humans in any way!
"Choosing greener options too often results in companies passing along inflated prices to their customers," remarked Dale Malone, Founder and Managing Partner of EcoBox. "We decided that as a showing of our true commitment towards the environment, we would make Bio-Bubble an easy choice, and keep the price the same."
This decision not only shows corporate stewardship, but leadership on the part of EcoBox. Changing attitudes toward pollution and excess waste will hopefully result in more companies following in their footsteps.
Bio-Bubble is as strong and durable as regular bubble wrap except that it contains an additive known as d2W that acts as a catalyst in the decomposition of the plastic when in the right environment. Unlike other plastic products such as polyethylene, polypropylene and polystyrene which take hundreds of years to decompose when brought to a landfill, Bio-Bubble will decompose within a year of being disposed.
"Sunlight, heat, and water are required in order to stimulate the decomposition of Bio-Bubble and it will not degrade inside a box or in a warehouse," says Malone. "Once the deterioration of Bio-Bubble is complete the only resultant by-product is a small amount of H2O, CO2 and trace amounts of biomass that actually serve as a nutrient source for soil microbes."
About EcoBox:
EcoBox was founded in 1994 with a stack of used moving boxes, a Buick Riviera, a storage shed and a great idea. For the past 12 years, EcoBox has been selling used moving boxes and supplies while saving their customers money. EcoBox now stocks more than 150 different sizes of boxes, tape, bubble wrap, packing peanuts and hundreds of other items for moving and shipping. Each independently owned EcoBox store is part of a team whose goal it is to provide EXCELLENT service to the customer while helping to save our environment through recycling.
To Learn More about EcoBox, Bio-Bubble and other environmentally friendly products offered by EcoBox visit http://www.ecobox.com/ or our blog at http://blog.ecobox.com/
###