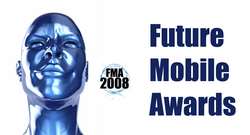 User Generated Mobile Web Content
Hampshire, UK (PRWEB) January 29, 2008
Mobile user-generated content innovators, GoFresh, have been selected as this year's top award winner in the mobile UGC category at this year's Future Mobile Awards, presented by Juniper Research.
The Future Mobile Awards are given to companies that have made significant progress within their particular sector during the previous year, and who are now poised to make a considerable market impact in the year ahead. This gold award recognises GoFresh for making an outstanding contribution to the future of the mobile UGC industry.
Commenting on the award, CTO and Co-Founder, Jukka Saarelainen said, "We are very proud and very pleased with your decision to award GOFRESH/itsmy.com the GOLDEN Future Mobile Award 2008. We have worked hard for the past 5 years to make itsmy.com what it is today: the leading mobile content community. The millions of cell phone users, who have already got a taste of itsmy.com´s services, whether as registered community members or as "pass-by-downloaders" are already taking advantage of the new possibilities of the mobile internet. We and our customers have proven that off-portal is the way to go. Thank you Juniper and thank YOU, dear itsmy.com users!"
Dr Windsor Holden, panel judge and Principal Analyst at Juniper Research said, "For an off-portal service, the success of GoFresh's itsmy.com has been remarkable. Launched in June 2006, by June 2007 the site was recording around 8,000 uploads per day with a cumulative total of more than 3m; monthly page views were in excess of 100m (up from 55m in December 2006). The following month - July 2007 - the site passed 500,000 registered users, primarily hailing from the US and the UK, and reached 600,000 in September 2007. This total has been achieved wholly by viral marketing. The site, which comprises video and picture blogging, a user-generated TV channel and an array of location-based social services, now also allows users to personalise their homepages with music clips provided by international DJs. The site continues to be at the forefront of innovation, and seems certain to appeal to an ever-wider audience."
The awards were granted by a panel of expert judges based on a number of criteria, including: Innovation; Customer retention; Customer growth; Commercial deployment; Ease of use/user interface; Revenue generation; Pricing (for services/products); and Capability/functionality. From a short list of nominations, the case was made for each nominee, with their relative merits and shortcomings debated and scored. Gold and Silver awards were conferred for each category. The silver award winner for the mobile UGC category was Cyworld Mobile.
GoFresh
Gofresh is trendsetter and spearhead in the User Generated Content and Mobile Communities marketplace. With its proprietary "User Generated Mobile Web Content" platform Gofresh is co-operating with operators, advertisers and brands worldwide. itsmy.com is Gofresh's worldwide, off-portal, "mobile only" community and is one of the fastest growing mobile communities worldwide. For more information please visit http://www.gofreshgroup.com
Juniper Research
Juniper Research provides research and analytical services to the global hi-tech communications sector, providing consultancy, analyst reports and industry commentary, http://www.juniperresearch.com. For further information about the awards please contact John Levett at +44(0)1256 830002.
###