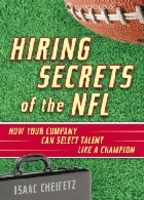 With the Super Bowl coming up, it's an ideal time to talk about the power and personalities and the psychology and the politics of what makes championship teams - and great companies - tick
Minneapolis, MN (PRWEB) January 28, 2008
Get your business game on this Wednesday at ExcuNet (http://www.execunet.com/r_network_detail.cfm?fmtid=80a7). Isaac Cheifetz, by day an executive recruiter and organizational consultant at Open Technologies, Inc., by night a student of the NFL, will work from his engaging and insightful new book, "Hiring Secrets of the NFL" (http://www.hiringsecrets.com, published by Davies Black) to explore how to build winning business teams using the drama of the Super Bowl, the hiring histories of the NFL and the nuances of football and business in general.
Join Isaac online at ExecuNet (http://www.execunet.com/r_network_detail.cfm?fmtid=80a7) January 30, 2008, from 3-4:30 EST for a lively interactive webinar in which the C-level strategist brings together his passion and professional expertise to discuss how to build winning teams in business like the winning teams competing in Sunday's Super Bowl.
"With the Super Bowl coming up, it's an ideal time to talk about the power and personalities and the psychology and the politics of what makes championship teams - and great companies - tick," Cheifetz says. "Who are the genuine player talents and characters in the Big Game? And who are they most like in the business world? Are there any 'Eccentrics' who may make the difference in the contest? Who are the 'Gamechangers' on both sides? Any 'Teamwreckers' (Randy Moss?!!) in this event? Does one lead your company? This special Super Bowl Seminar promises to be entertaining and educational about making the right hiring choices for optimum performance."
Other topics this veteran recruiter, speaker and consultant will cover, using the metaphors of football to speak the language of business, include:
· The overpriced payouts for underperforming stars
· The need for fierce competition, teamwork and strategic alignment.
· Recruit and retain all-around excellence with an eye to the future, not the past
· Apply the value-investing method made famous by Warren Buffett to avoid overpaying for talent
· Seek out and distinguish eccentrics from teamwreckers--and learn to manage them effectively
· Assess the strength of your entire system--not just your stars.
The dialog promises to be wise, witty and pragmatic -- just in time for one of the sporting world's most watched events.
For more information visit: http://www.hiringsecrets.com and http://www.opentechnologies.com
To interview Isaac Cheifetz any time -- please contact Martin Keller, Media Savant Communications Company, 612-729-8585.
# # #