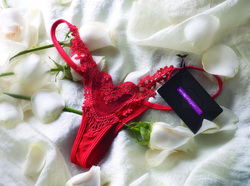 I'm hot for you. Come home to me now.
Sacramento, CA (PRWEB) January 29, 2008
Do heart boxers or an ugly tie actually lead to lovin' on Valentine's Day? Not as quickly as receiving a red, lace panty in the mail. The suggestive show of affection from Sendapantygram.com says, "I'm hot for you. Come home to me now."
Priced at $24.95, the panty arrives inside a black envelope marked "Personal and Confidential." A customized card is attached, teasing the recipient to visit a private web login and view their secret message.
"What do men really want for Valentine's Day? I can guarantee it's not a nice watch or box of chocolates. Men want their wives or girlfriends to initiate romance," said Founder of http://www.sendapantygram.com , Debbie Augustine. "Women everywhere are jumping on this idea because there's nothing more playful, passionate or shocking than receiving a panty."
Augustine speaks from experience. Years ago, she sent her then boyfriend a panty in the mail. When she spoke to her ex years after sending the surprise, he not only remembered the gift, but still had it. The enthusiastic reaction prompted her to start http://www.sendapantygram.com in late 2006.
Since its inception, the company has delivered panties to countries as far away as China, Iraq, Japan, England, France, Greece and Germany. The website also takes orders year round for other romantic gift opportunities such as birthdays, anniversaries or themed parties.
For delivery on Valentine's Day, orders must be placed by February 13th at 3:00 p.m. EST. For more information, please contact Lesley Miller at 916-960-2905 or visit http://www.sendapantygram.com
###