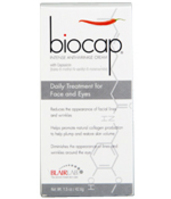 I absolutely did see improvement in the tone, texture and clarity of the skin. There was improved hydration and a decrease in wrinkling.
Highlands, NJ (PRWEB) January 29, 2008
Do you like your food hot? The same ingredient that puts the burn in hot sauces is now a ground-breaking wrinkle remedy. The magic ingredient is capsaicin, and Blair Lazar, the maker of the line of scorching hot Blair's Death Sauces, swears by it. He's developed a new skin cream called Biocap that does miracles for skin tone--even more so than Botox, reports The New York Post.
Blairlab has discovered that Capsaicin, a colorless, odorless, and flavorless phytochemical that puts the "hot" in hot peppers, also gets rid of wrinkles. Capsaicin is a vasodilator that naturally increases blood flow to the skin. Blair recently created a facial cream that is as gentle on the skin as it is powerful. It magically erases crows' feet and laugh lines. Biocap users report a marked improvement in wrinkle depth, length and volume, while skin roughness virtually disappears.
Biocap gives women a smoother, younger complexion, fewer wrinkles, and fast results without expensive and painful peels, implants or injections. It gives you a youthful, healthy, glowing complexion faster than Retinol, far superior to vitamin C, and without irritation, needles, or surgery. Biocap can be used twice a day, yielding continual results, unlike injections, facial peels, and micro-dermabrasion, which can hurt skin and wear off after time.
Stylephiles and A-listers are buzzing about Biocap. This over-the-counter cream, which is non-invasive and gentle on skin, has become a sure-fire bet for glowing, radiant skin. Rich in antioxidants, which reduce the harmful effects of free radicals and protect skin from additional damage, Biocap immediately lessens the depth of wrinkles and revives tired, worn-out skin. Dermatologist to the stars, Dr. Laurie Polis of SoHo Skin & Laser Dermatology said "I absolutely did see improvement in the tone, texture and clarity of the skin. There was improved hydration and a decrease in wrinkling." Clinical test show that BioCap stimulates the production of fibrillin, a protein associated with the creation of collagen and elastin. It visibly reduces wrinkles. Biocap is available at fine stores and at http://www.blairlab.com
About Blairlab
Blairlab created Biocap to address individual skin types and needs. The Biocap product line, which also includes Biocap XS, an extra-strength formula, is based on years of research and related expertise of leading dermatologists. A-list socialites and Hollywood celebs have created a cult-like following around Biocap for its wrinkle-reducing properties. For more info, visit http://www.blairlab.com. For media inquiries and samples, contact Blair Lazar, toll-free 1-800-98-BLAIR or biocapcream @ gmail.com.
###