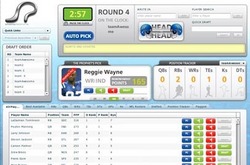 We are very pleased to have been recognized by the FSTA in this very competitive and important category. But even more importantly, we're thrilled that the hard work we've invested in building the very best in fantasy sports software is paying off in big profits for our clients
Orlando, FL (PRWEB) January 29, 2008
Sports Prophet, LLC has been selected as a finalist to receive the Fantasy Sports Trade Association's (FSTA) Best in Innovation Award for 2007. It has received this distinction for its advanced fantasy sports software which offers draft assistance and player management tools that apply internationally recognized and award-winning technology, to provide the most advanced predictive modeling analysis for fantasy sports players.
Sports Prophet's (http://www.fantasysportsprophet.com) completely web-based fantasy sports software system allows subscribers to access their Sports Prophet account from any device equipped with an internet connection. Unlike typical draft assistance software used one time for the draft, Sports Prophet provides a full suite of products that take subscribers beyond the draft with tools to manage their roster for the entire season.
Sports Prophet's system utilizes a proprietary blend of artificial intelligence, predictive analytics and data mining techniques to provide player projections with a level of accuracy previously unattainable, giving its users a significant advantage against other owners in their league.
"We are very pleased to have been recognized by the FSTA in this very competitive and important category. But even more importantly, we're thrilled that the hard work we've invested in building the very best in fantasy sports software is paying off in big profits for our clients," says Ari Wirtschafter, President of Sports Prophet, LLC.
FSTA's Innovation award is presented to the company with the most innovative new design or technology innovation. The winner will be announced on February 11, 2008.
About Sports Prophet: Sports Prophet debuted in August 2007 with the launch of its Fantasy Football Draft Assistance and Roster Management Tool. Subscribers pay a one-time fee that provides access to all Sports Prophet features and tools, regardless of the number of teams being managed.
About the FSTA:
The FSTA was founded in 1999 to provide a forum for interaction among companies in the fantasy sports industry. The FSTA represents more than 125 member companies with a market size of about 18 million adults in the United States.
###