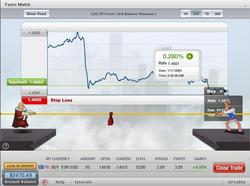 Trading is complex. But there are theories and studies and a plethora of analyses to help traders engage in this complex yet rewarding activity. Our latest version incorporates all of these while still remaining simple and straightforward
Limassol, Cyprus (PRWEB) January 30, 2008
The ground-breaking online Forex trading platform eToro continues to better itself and offer a unique interface with ever more user friendly innovative trading screens.
"Trading is complex. But there are theories and studies and a plethora of analyses to help traders engage in this complex yet rewarding activity. Our latest version incorporates all of these while still remaining simple and straightforward," said Johnathan Assia, CEO of eToro. "It encompasses all the different trading strategies so that our traders can really learn Forex trading and engage in it."
eToro has once again managed to top itself, developing trading platforms to match trading strategies. eToro offers three underlying trading strategies: Fundamental analysis, Technical analysis, and Trend following have become respectively the foundation of eToro's Globe Trader, Forex Match, Dollar Trend and Marathon arenas. In doing so, eToro can proudly claim its role as the innovation leader of the industry.
The Globe Trader enables traders to trade based on the principles of fundamental analysis, which studies the causes of price movements. It allows traders to see the globe and create a worldwide portfolio of Forex trading.
The Forex Match enables traders to trade based on the principles of technical analysis, which studies past market behavior via charts in order to determine future market behavior. It allows traders to trade with a certain pair at a certain time and to do so while looking at charts - real time charts as well as historical charts.
The Dollar Trend and Forex Marathon enable traders to trade on the principles of trend following, which trusts that trends are the most indicative market feature. The Dollar Trend and Forex Marathon enable traders to open a combo trade, which is a combination of one currency against several others, based on the trend observed for that one currency. The Dollar Trend emphasizes the importance of the U.S. Dollar as the most liquid and influential currency and allows traders to trade multiple currencies against it. The Marathon enables traders to take advantage of all other currencies and trade one major currency against several others.
In having created such a thoroughly all-encompassing trading experience, directly based on trading strategies, eToro has raised the bar to an entirely new level and has redefined trading. Trading on eToro has become even more comprehensive and educational, while remaining engaging both visually and mentally. It has upped the importance of its community, hence giving a full voice to its users. Through the platform, traders interact and chat with each other and discuss their different trading strategies and preferences and the ways in which eToro caters to them.
The people behind eToro came together to revolutionize the online Foreign Exchange market. Today, only several months lafter it's launch, eToro is by far the fastest growing platform for online Forex trading. eToro is currently teaming up with other well-accomplished international Forex trading and hedging companies in order to offer the eToro trading experience to an even larger number of traders worldwide.
For more information, please visit: http://www.eToro.com or contact
Ron Brightman at ron @ eToro.com.
###