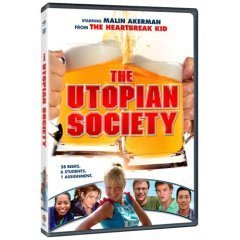 It had evoked the same emotions he felt the first time he saw American Graffiti.
Hollywood, Calif. (PRWEB) January 30, 2008
Malin Akerman's Debut Feature Film makes Its Way to Video Store Shelves and on to Time Warner Cable.
Malin Akerman is appearing in more then just the "27 Dresses" (FOX 2000), currently playing in theaters throughout the country. Before she emerged as, "Lila", in The Heartbreak Kid, "Tess" in 27 Dresses, or was cast by Zack Ryder as "Silk Spectre", in the upcoming Warner release, Watchmen: Akerman played "Tanci", a complicated and self absorbed sorority brat, in the award winning, festival darling, The Utopian Society. Akerman gives a truthful performance with her arresting beauty and vivacious personality in this comedy/drama indie, directed by John P. Aguirre.
The Utopian Society film also features a soundtrack produced by James Oddo, introducing a bevy of new, unsigned artists and a score by award winning veteran film composer, Eric Hester.
Polychrome / Warner picked up the indie title after a successful, award winning festival run. The Utopian Society was not only Akerman's U.S. acting debut, as it turns out, it was a very personal experience for her, it's how she met her band mate and husband, Roberto Zincone of, "The Petalstones. According to the producers, they were introduced to each other at a looping session by the film's editor, and "Ozono" band leader, Francesco Sondelli. "Ozono" changed it's name to "Petalstones" when Akerman was invited to "front" the group as it's lead singer.
Since debuting in The Utopian Society, Akerman has costarred alongside Ben Stiller as Lila, in "The Heartbreak Kid", Katherine Heigl in "27 Dresses" and Lisa Kudro as "Juna" in the short lived series on HBO, "The Comeback." Her next starring role will be as "Silk Spectre" in Zack Snyder's Watchmen, also a Warner Bros. release. Aguirre is happy to admit, "It's exciting that she's becoming a movie star, we always had a hunch this would happen and there's a certain satisfaction in knowing we spotted her talent first. Hopefully, we'll re-team with Malin in the near future."
Inspired by Thomas Moors' allegory Utopia, and from a script by Jason Preston, The Utopian Society is the story of six college students from diverse backgrounds that are thrown together on a final project - to create a "Utopian Society" on paper. The film, which has been compared to "The Breakfast Club" by audiences around the country, also stars Austin Nichols ("The Day After Tomorrow," "John From Cincinnati", "Friday Night Lights"). Director, James Foley (Glengarry Glen Ross) who viewed it at a film festival in Phoenix, said "It had evoked the same emotions he felt the first time he saw American Graffiti.".
Aguirre's other Director and Producer credits include: My First Day at Preschool With Buddy Bear, released by THinkFilm (http://www.myfirstday.net), You Did What (producer) and Women On Top (Careyes Entertainment)
Aguirre recently teamed with Scott Rudolf to launch Great American Cinema, a production / acquisitions company currently accepting comedy and family driven completed scripts and films (http://www.greatamericancinema.com)
Director / Producer John Aguirre is repped by Alan Shafer of Careyes Entertainment
Malin Akerman is repped by Endeavor and Steve Caserta at Sanders Armstrong
###