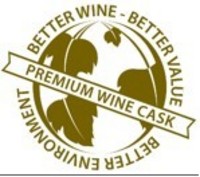 If the 99% of wine produced to be consumed within a year were in BIBs, we'd save 1.5 million tons of CO2 a year -- like taking 250,000 cars off the road.
San Francisco, CA (Vocus) January 29, 2008
Wine consumers interested in helping save environmental costs -- and some expenses -- can now find authoritative data at a new website http://www.betterwinesbetterworld.com.
Launched by The Wine Group, the country's third largest wine company, the site documents the cost and carbon savings in a half-dozen categories.
"Consumers who drink a daily glass of wine with dinner and switch from glass bottles to bag-in-box containers enjoy the same great premium wine and save themselves on average over $180 per year, cut landfill waste by 85% and create less than half the carbon footprint of glass bottles," said The Wine Group president David Kent. "For consumers and the environment, the savings could not be clearer." Because BIB packages require far less energy to produce, ship and display, experts report an approximate 55% savings versus glass. "This savings directly impacts distributors and retailers interested in environmental impacts," Kent said. "If the 99% of wine produced to be consumed within a year were in BIBs, we'd save 1.5 million tons of CO2 a year -- like taking 250,000 cars off the road."
Another dramatic saving relates to cork taint, which spoils 5-8% of bottled wine -- about one bottle per case. Not evident until the bottle is opened, cork-tainted wines are produced, distributed, purchased and disposed of at a tremendous environmental cost. By enjoying wine in BIB packages, US wine drinkers would eliminate cork taint and not throw away enough wasted wine to fill over 40 Olympic size swimming pools. The web site documents the 85% packaging waste savings, which include the bottles, capsules, neck bands, corks, labels and large cardboard boxes. "Almost a million tons of glass packaging would be saved if BIBs were used for the majority of wine drinkers' wines," stated Kent.
The Wine Group's position is supported by two environmental authorities. Tyler Colman, Ph.D. (http://www.drvino.com) and sustainability metrics specialist Pablo Paster, (http://www.askpablo.org) authors of a 2007 published paper by American Association of Wine Economists on the carbon footprint of wine, note that "Alternative packaging products like Tetra Pak or bag-in-box have less carbon intensity because they are lighter and can be packed more efficiently in a shipping container. The lighter alternative packaging means that the carbon used for transporting wine is used for just that - wine, not glass. (Glass adds mass; the greater the mass, the less efficient the transport is.)"
Roger Boulton, Stephen Sinclair Scott Professor of Enology and chemical Engineering, Department of Viticulture and Enology, University of California recognizes the improvement in business practices while challenging the industry to do more. "One of the future challenges for the management of all wine businesses is the reduction of their carbon footprint. This number is made up of several contributions and a series of changes will need to be made probably requiring ongoing adaptation. There are questions of the ownership of these emissions...such as bottles and packaging...Anything a wine company can do to reduce their carbon footprint will probably be viewed positively by consumers and the larger community. Any wine delivered to market that has resulted in 1/3 less carbon emissions is a significant and consequential improvement in business practices."
The site includes information on how BIB packaging results in better wines by maintaining freshness for at least six weeks after opening. BIB brands produced by The Wine Group include Killer Juice, Angel Juice, Boho Vineyards, Fish Eye, Glen Ellen, Pinot Evil, Corbett Canyon, Carsara and Pacific Peak.
For more information, please visit the Better Wines Better World website at http://www.betterwinesbetterworld.com.
To speak with a representative of The Wine Group, please contact Patricia Schneider (415) 717-7595.
###