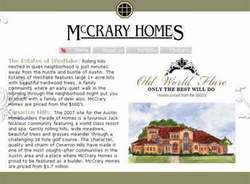 Our homes are built as if we were going to live in them ourselves
Georgetown, TX (PRWEB) January 30, 2008
McCrary Homes, a family-owned company specializing in the building of luxury new homes, announces a return to construction in the Austin, Texas area after a twenty year absence. The luxury new homes are being built in Georgetown, Texas, minutes from Austin, in the much-desired Williamson County North West Corridor, cited as one of the fastest growing counties in the United States.
Business owners Jerry and Linda McCrary spent their twenty year absence from Austin area home building watching trends and publishing home-related magazines. When they decided to return to their home, and with the help of their son Jeff recapture where they left off in the eighties, the time away spent trend-watching was able to give the company an edge in the highly competitive Georgetown market, selling their first spec in the framing stage. The spec was a combination of the top features of various award-winning luxury new homes featured in their magazines.
"Our homes are built as if we were going to live in them ourselves," said company co-owner Linda McCrary. Linda's specific role within the company is to design and select the interior colors, flooring, cabinets, and other features which turn the inside of each home into a true work of art. Her husband Jerry and son Jeff take care of the construction, with years of expertise in the field.
As luxury home builders moving deeper into the twenty-first century, the principals of McCrary Homes have used the time off also to research other innovations besides those of aesthetic design.
Linda McCrary added, "We are on the cutting edge of new technology to make life easier and more energy efficient." The new homes from the luxury home builders company feature items that include tankless water heaters, high efficiency appliances and plumbing fixtures. McCrary Homes works with landscapes that are drought tolerant and deer resistant.
For more information about these Georgetown, Texas luxury home plans, visit the company online at McCraryHomes.com.
About McCrary Homes:
With a motto of "Only the best will do," McCrary Homes is a company offering new homes in the Austin, Texas area, in the $600,000 price range and above. A family-owned business with great attention to detail, McCrary Homes was started by husband and wife team Jerry and Linda McCrary, along with their son Jeff, after a twenty year absence from the home-building business, spent doing research and publishing magazines for the industry. Now, each house they create is a work of art and personal passion, designed for the most discriminating home buyer.
###