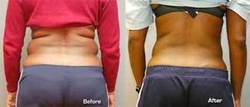 Under the guidance of a board certified plastic surgeon, clients are assured they are receiving the highest level of professionalism and service with treatments performed only by Nu U Medspa's elite team of doctors, dermatologists, registered nurses and highly skilled, licensed estheticians
Las Vegas, NV (PRWEB) January 30, 2008
The consumer demand for lipodissolve, mesotherapy and fat removal treatments has exploded at Nu U Medspa. Besides lipodissolve and mesotherapy, other popular Nu U Medspa specialties include laser hair removal, Botox, Restylane, IPL, Photofacial, Acne Treatment, Chemical Peel and skin tightening.
"Under the guidance of a board certified plastic surgeon, clients are assured they are receiving the highest level of professionalism and service with treatments performed only by Nu U Medspa's elite team of doctors, dermatologists, registered nurses and highly skilled, licensed estheticians," say the folks at Nu U Medspa.
Lipodissolve, mesotherapy, laser hair removal, Botox, Restylane, IPL, Photofacial, Acne treatment, Chemical Peel, skin tightening are among Nu U Medspa's specialties with Arizona locations in Phoenix, Scottsdale, Mesa & Glendale AZ & Chicago locations in Skokie, Schaumburg, Naperville, Lincoln Park, Lakeview & Wicker Park, Illinois.
Nu U Medspa can also be found in the Getmeso.com mesotherapy and lipodissolve doctor directory. Getmeso.com is the fastest growing doctor directory on the Internet today with information, videos, news and articles on lipodissolve, mesotherapy, cellulite, Smartlipo including a directory of specialists who perform these prodecdures throughout the United States and Canada. Nu U Medspa has over 9 locations at Getmeso.com. Their most popular listings are for Phoenix lipodissolve and Chicago lipodissolve.
What is Lipodissolve?
Lipodissolve. is a non-surgical medical procedure that involves the injection of a compound called phosphatidylcholine into the skin to dissolve fat. Phosphatidylcoline (PPC) is a naturally occuring enzyme and is the main component of soy lecithin. Lecithin has been medically proven to have the ability to break down fat and reduce cholesterol. PPC has been used for fat removal and cellulite reduction by physicians for several years now as a safe non invasive alternative to surgical procedures such as liposuction. The compound is administered through a series of micro-injections to permanently dissolve the fat in unwanted areas. The compound is delivered directly into the subcutaneous fat through multiple microinjections administered over one to three treatment sessions spaced about six weeks apart. The treatment is meant to dissolve fat, which is removed from the body through normal waste removal. The desired end result is precise body contouring in localized areas. Although similar, lipodissolve is not to be confused with mesotherapy.
What is Mesotherapy?
Mesotherapy is a minimally invasive, micro-injection technique used to treat patients for a variety of medical and cosmetic conditions. It was invented in 1952 by Dr. Michel Pistor, and is a procedure where medication is injected into the mesoderm, the layer of fat and connective tissue under the skin. In the U.S. the focus of this therapy is largely cosmetic treating such conditions as cellulite, spot fat reduction, rejuvenation of the skin and hair regrowth.
Mesotherapy is considered to be a very effective cellulite treatment in the hands of a certified mesotherapy professional. Cellulite is a skin condition seen commonly in the hips, thighs and buttocks. The cottage cheese appearance or multiple dimples on the skin occurs in over 90% of post pubescent women. It is not related to being overweight, as some people believe, but rather to genetics. When mesotherapy is performed, the cellulite area develops increased blood and lymphatic flow, decreased fibrosis of the connective tissue, and reduction of the fat deposits. The net result is a smoothing of the skin and cellulite reduction
The Nu U Medspa staff will cater to your every need. You'll feel pampered and confident, secure in the knowledge that their professional staff has completed the most advanced product training available. All of their estheticians and nurses have been certified by the Nu U Certified Training Program developed together by Nu U's Medical Director and leading manufacturers. They have tested the safest and most advanced technologies available. You will have the assurance of knowing that Nu U management and trainers have a combined 25 years experience in the esthetic laser field. Nu U Medspa assures that their treatments will deliver dramatic results. Before and after your treatment, Nu U staff members will tell you everything you need to know, so you'll know exactly what to expect.
If you are looking for more information about lipodissolve & other non-invasive cosmetic procedures and wish to find a specialist in the Phoenix, Scottsdale, Mesa, Glendale Arizona AZ areas or Chicago locations including Lincoln Park, Naperville, Schaumburg, Skokie, Lakeview or Wicker Park, visit the Nu U Medspa website at http://www.nuumedspa.com/.
###