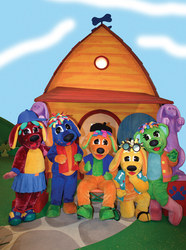 In August, 'Raggs' ratings exceeded both titles 13 out of 20 days. We have been amazed at the overwhelming public support for 'Raggs' and know that it will delight audiences across America.
Charlotte, North Carolina (PRWEB) January 30, 2008
American Public Television (APT), the second largest supplier of television shows to public broadcast stations, will begin offering 60 episodes of the new children's musical series "Raggs" on February 4, 2008.
"'Raggs' is one of the most ambitious launches of a new children's series in the history of APT," says Cynthia Fenneman, President and CEO of American Public Television. "It's rare to find an independent children's TV series that has created so much content and at such a high level of quality. We are delighted to make "Raggs" available to the more than 350 independent public broadcast stations in the U.S."
The series stars five colorful canines - Raggs, Trilby, Pido, B. Max and Razzles - who play in a rock 'n' roll band and live together in a clubhouse with their wisecracking pet cat, Dumpster. The innovative format features live costumed characters, animated segments, interviews with children and music videos. Dr. Sholly Fisch, former VP of Program Research at Sesame Workshop, directs "Raggs" educational content which reinforces preschool academic and pro-social themes.
Captivating music lies at the core of "Raggs," with more than 200 original rockin' songs that educate as well as entertain children and parents. The Raggs concept evolved from the success of The Raggs Band, which has played over 3,000 live concerts on four continents since 2001. Performances include three overseas tours for Armed Forces Entertainment and three trips to The White House.
The nation's most-watched public broadcaster, San Francisco's KQED, added "Raggs" to its award-winning list of successful shows in June 2007. "When we began airing 'Raggs' as a test, we bookended it in the schedule with 'Curious George' and 'Dragon Tales,' two of public broadcasting's most successful titles," says Scott Walton, KQED Executive Director of Communications. "In August, 'Raggs' ratings exceeded both titles 13 out of 20 days. We have been amazed at the overwhelming public support for 'Raggs' and know that it will delight audiences across America."
While other classic shows may have built more extensive episode libraries, the demand from overseas broadcasters has required "Raggs" to produce an unusually large body of work in an amazingly short period of time. Raggs LLC and Southern Star International have created 195 half hour episodes in two and a half years, making "Raggs" one of the largest productions and fastest growing children's television series in the world. The remaining series and new productions will be fed into the public broadcast system by APT allowing for stations to air the show daily and change content on a scheduled basis.
Creator and President of Raggs LLC, Toni Steedman first came up with the idea as a carpool story for her daughter about a dog named Raggs who loves rock 'n' roll. "The concept has truly grown, but all of the nearly 200 people--writers, producers, directors, musicians, actors and management team--have focused on creating a show that marries incredible music with endearing characters and an educational mission," Steedman explained, "which has resulted in a series that delivers on many levels to a diverse audience with different skill sets."
Background Information
Raggs LLC, Charlotte, NC
"Raggs" is an original concept created by Toni Steedman, a former Charlotte, NC advertising
executive. The "Raggs" television series is a co-production between Raggs LLC and Southern Star
International, Sydney, Australia. Series executive producers are Toni Steedman from Raggs LLC
and Cathy Payne and Noel Price from Southern Star. Steedman and her daughter, Alison, originally created Raggs in 1990, as an imaginary pet dog who loved rock 'n' roll music. Raggs stories became the entertainment for carpool rides to and from school. In 1997, Steedman began using a commercial version of Raggs for a Kids Club Program in US regional malls. By 2001, the Raggs concept had expanded to include the band. In 2002, The Raggs Band (aka Raggs Kids Club Band) began playing concerts, recorded their first CD titled "Pawsuuup!" and produced a pilot DVD/TV special also titled "Pawsuuup!"
By 2003, the Raggs franchise was growing rapidly, adding new music, new DVDs and tour dates around the US. With the popularity of the characters and their music, Raggs LLC began to explore TV production and broadcast opportunities. In March 2005, Raggs and Southern Star International, a global production and distribution company based in Sydney, Australia, solidified plans to develop and distribute the "Raggs" TV series. The series is in its third year of broadcast in Australia on Seven Network. Seven other countries including the US began broadcast in 2007. In addition, The Raggs Band continues to tour, having played more than 3,000 live shows over four continents.
KQED, San Francisco, California
KQED (http://www.kqed.org) is a service of Northern California Public Broadcasting, Inc. (NCPB). KQED Public Television 9, one of the nation's most-watched public television stations during primetime, is the producer of local and national series such as QUEST; Check, Please! Bay Area; Jacques Pepin: Fast Food My Way; and Jean-Michel Cousteau: Ocean Adventures. KQED's digital television channels include KQED HD, KQED Life-Encore, KQED World, KQED Kids and KQED V-me, and are available 24/7 on Comcast. KQED Public Radio, home of Forum with Michael Krasny and The California Report, is the most-listened-to public radio station in the nation with an award-winning news and public affairs program service (88.5 FM in San Francisco and 89.3 FM in Sacramento). KQED Education Network brings the impact of KQED to thousands of teachers, students, parents and the general public through workshops, community screenings and multimedia resources. KQED Interactive offers video and audio podcasts and live radio stream at http://www.kqed.org, featuring unique content on one of the most-visited station sites in public broadcasting.
American Public Television (APT)
With more than 10,000 hours of programming in its library, American Public Television (APT) has been a prime source of programming for the nation's public television stations for 47 years, distributing more than 300 new program titles per year. APT milestones include distribution of the first HD series on public television and the 2006 launch of Create - the TV channel featuring the best of public television's lifestyle programming. Known for its leadership in identifying innovative, worthwhile and viewer-friendly programming, APT has established a tradition of providing public television stations with program choices that strengthen and customize their schedules, such as Carreras Domingo Pavarotti in Concert, Winged Migration, Battlefield Britain, Globe Trekker, Rick Steves' Europe, Great Museums, Jacques Pépin: Fast Food My Way, America's Test Kitchen From Cook's Illustrated, Broadway: The Golden Age, Lidia's Family Table, California Dreamin' - The Songs of The Mamas & the Papas, Rosemary and Thyme, P. Allen Smith's Garden Home, Raggs, The Big Comfy Couch, Monarchy With David Starkey, andother prominent documentaries, dramatic series, how-to programs, children's series and classic movies.
Southern Star International, Sydney, Australia
Southern Star is an integrated film and television production and distribution group. Divisions of the company are involved in film, television and video production; sales and distribution; and licensing and merchandising. Southern Star is a division of Southern Cross Broadcasting (Australia) Limited, a publicly listed company on the Australian Stock Exchange.
###