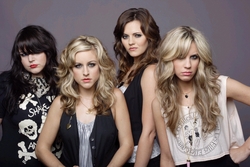 Don't Wait Up For Me
Los Angeles, CA (PRWEB) January 30, 2008
Habbo (http://www.habbo.com), the leading global online virtual world for teenagers, today announced that rock 'n' roll rebels, The Donnas, will check into the community for an interview with fans.
The popular all-female, indie-rock band will visit the Habbo Theaterdome Thursday, January 31 at 3 p.m. (PST)/6 p.m. (EST). Fans are invited to hang out with The Donnas, ask questions about their latest album, Bitchin', which include the hits "Don't Wait Up For Me" and "Wasted" and find out about their new label, Purple Feather Records.
For the opportunity to meet The Donnas, log in to Habbo or join for free by going to http://www.habbo.com and clicking on the "Register Now" button. To hear the exclusive live discussion with famed Habbo DJ duo, Whimsy and RubbeeRED, tune into Habbo's Internet Radio Stream, Habbo Radio (http://www.habbo.com/community/celebrity_visits/81-habbo-radio).
About The Donnas
Brett Anderson (lead vocals), Maya Ford, (bass), Allison Robertson (guitar) and Torry Castellano (drums) comprise the legendary Donnas. The four self-described "dorky pre-teen girls" formed the alt-rock band while in junior high school in Palo Alto, CA. They have gone on to record seven albums, including their latest hit Bitchin'. In 2007, The Donnas also started their own label, Purples Feather Records. You can find out more about the band at http://www.thedonnas.com.
About Habbo
Habbo is a richly colorful, multi-dimensional virtual community and game environment for teens. Users join by creating a fully customized online character called a Habbo. From there, they can explore many public hang-outs, play a variety of games, connect with friends, decorate their own rooms, and have fun through creativity and self expression. Currently there are Habbo communities in 31 countries on five continents. To date, more than 86 million Habbo characters have been created and 8.3 million unique users worldwide visit Habbo each month (source: Google Analytics). Habbo is operated by Sulake Corporation, a Finnish online entertainment company. http://www.habbo.com
Habbo press images: http://www.sulake.com/press/image_bank
Contact Information
Erik Fairleigh
Edelman Public Relations
323-202-1026
Susan Mills
Edelman Public Relations
323-202-1050
Gina-Marie DeGregorio
Press Here Publicity
212-246-2640, x213
###