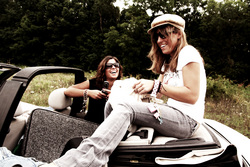 Wriskey,™ is not only a product
Newtown, PA (PRWEB) January 31, 2008
Do you know where your keys are? If you're wearing a new Wriskey™ - a fashionable key ring created from an array of couture fabrics and worn on the wrist- then you know exactly where they are. And, you look pretty darn cute in it, too.
Appropriately named, the term Wriskey™ is a combination of the words "wristlet" and "keychain." and comes ready to rock your wrist!
Bella Pink, the brainchild of owner, Tara Frey, is best known for its chic collection of vintage-inspired home goods and accessories, takes a preppy-gone-wild approach with their new Wriskey™ venture. The fashionable accessory has created a buzz in Hollywood and spotted on some of today's top starlets while holding a cappuccino!
"Wriskey,™ is not only a product," said Tara. But the term also describes the type of girl who will carry them. We call them Wriskey Girls™ - super chic ladies who don't have time to look for missing keys; a multi-tasking mom chasing after her tots while managing to shop in & out of stores; a flea market maven toting armloads of vintage gems to her car; a teenager who needs to look cool at all times, even carrying the house key; a celebrity trying to get to her car before the paparazzi can snap her picture, an avid golfer who carries her country club locker key in style; a business executive with no time to tuck her keys in her attach頷hile running to catch her flight."
Home of the original fabric wristlet keychain, the Wriskey™ is constructed of sturdy canvas and couture fabrics, offering a durable, functional, trendy and chic accessory to match any outfit, any mood, any day. Wriskey™ easily slides on the wrist and fits any wrist size, giving you a free hand for your fabulous on-the-go lifestyle.
"I began Wriskey after being fed up with losing my keys while out with the kids," said Frey. My keys were always popping out of my back pocket or lost in the black hole in my purse. I teamed up with a talented textile artist to develop the Wriskey™ line in an array of fabric styles and fashions for everyone! Just slip on your wrist and have your keys handy at all times while still looking fashionable." Wriskey's are popping up on everyone's wrist, from soccer moms to ultra chic celebrities.
Joining the Wriskey™ collection is Wriskey™ Girl Couture - a clothing line with bling-inspired illustrations and funky sayings to show the world just how fabulous you are. A stationery series and a home collection of accessories that a true Wriskey Girl can't live without will soon follow.
Visit Wriskey™ online at http://www.wriskey.com where the boutique will launch in January, to view and purchase from their entire collection of unique and trendy accessories or to find a boutique near you.
###