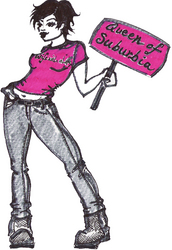 People change, so why not logo's?
Derby, Derbyshire (PRWEB) January 31, 2008
Trust the fashionista's to spot a trend.
With the launch of their new evolving "avatar" UK Fashion Designer Queen Of Suburbia has declared the static logo old-fashioned and out of style. Look closely at the corporate landscape and it's easy to see spot a design movement.
This week, the designers of the controversial London Olympics logo claim that they intended it as only the first part of an "evolving branding package". Likewise, when millions of Googlers log on to the search engine on Wednesday 14th Feb, they'll discover that its familiar red, blue, yellow and green logo has been transformed into a Valentine's Day extravaganza of red hearts and romantic paraphernalia.
Dynamic identities fly in the face of the conventional wisdom that consistency is essential to an effective corporate identity. The more we see the same corporate symbol -- or so the consistency camp argues -- the more likely we'll be to recognize and remember it.
At Queen of Suburbia, they think differently. "People change, so why not logo's?" reasons Queen of Suburbia creator Danni Tomkinson. "We all have different roles to play - I don't talk in the same way to my children as I do to my business collegues and i'll be different again if i'm having a conversation with a fashion journalist. The basic core of me doesn't change, but "me" adapts to context".
The challenge with the Queen of Suburbia avatar was to provide a platform that enables a t-shirt to be recognised as a Queen of Suburbia product but at the same time, allow the brand to grow, evolve and change. After all, what started out as a means of getting revenge on unfriendly school mums, has evolved into an International fashion brand with a portfolio of over 50 t-shirts and they didn't want to be constrained by a logo designed at the start of their journey.
Mark Errington, Head of Marketing at Queen of Suburbia believes that the arguments promoting "consistency" are becoming unfashionable. "We all live at such a frenzied pace, and are exposed to so many marketing messages and corporate logos (believed to be as many as 3000 a day) that a stable image becomes almost invisible. If its static, we no longer register it, and being ignored is death to a brand."
He continues, "At Queen of Suburbia, our t-shirts reflect the humour and personality of our customers and designers. As such, we're a living avatar, when Danni changes her hair, the avatar changes. Its still recognisable as Queen of Suburbia because the core design drawings stay the same, but being able to dress her, to style her, means we can make her feel more human."
In fairness, not every brand can do this. One might require one's favourite t-shirt manufacturer to be cool and trendy but in a financial institution being conservative and stable is a more desirable characteristic.
Google were once asked why they constantly change their logo, their answer was "because it's fun". The new Queen of Suburbia avatar is certainly that, but other brands should beware, when it comes to evolving logo's, it's not one size fits all.
About Queen of Suburbia:
Queen of Suburbia are based in the UK and headed up by fashion designer Danielle Tomkinson. Queen of Suburbia has shot to European prominence with a range of t-shirts and bags influenced by politics amongst school mothers. Danni worked for several prominent fashion houses in late 90's London but left the big city lights for suburbia where she had her two children. Whilst design remained a hobby, it seemed like her high-flying career was a thing of the past until she found an unlikely muse in the school playground.
The politics amongst the mothers in the schoolyard fascinated Danni and soon she was designing again. This time, rather than suits for Paul Smith or dresses for 1647, it was slogan t-shirts that became the outlet for her creative talents.
Queen of Suburbia started small but grew quickly, first local, then regional, national and Europe-wide, the witty, arch and fashionable tees struck a cord and now finally demand from the US has reached such a level that Queen of Suburbia has opted to distribute in the US via her website http://www.queenofsuburbia.com. Her writings on fashion, celebrity and trends can be found at her fashion blog.
###