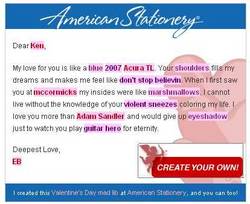 In the era of Mii-shaped chocolates and hot pink ear buds, E-Valentines are the perfect edgy cards to complement techie gifts
Peru, Ind. (PRWEB) January 31, 2008
American Stationery launches cyber-Valentine campaign; Victorians turn over in their Graves.
The modern romantic fairytale goes something like this:
Chapter 1: Boy meets girl on MySpace. Cyber-sparks fly.
Chapter 2: The all-important first meeting occurs. Each is actually hotter than their avatar, to the great relief of the kingdom.
Chapter 3: Both make the big status change from "Single" to "In a Relationship," and they live happily ever after-until Valentine's Day.
Even in this modern society, there is still one Victorian hold-over lovers will struggle to celebrate this year-albeit in an appropriately edgy fashion. For couples who have long since moved their significant other to the coveted number one spot in their top eight, the site American Stationery http://www.americanstationery.com has just launched the perfect savvy Valentine's Day gesture: personalized e-valentines http://www.americanstationery.com/valentinelander/valentine_creator.asp.
"In the era of Mii-shaped chocolates and hot pink ear buds, E-Valentines are the perfect edgy cards to complement techie gifts," said Ian Lurie, CEO of Portent Interactive, the internet marketing company for American Stationery.
How to Make an American Stationery E-Valentine:
1. The creator plugs their personal details into a Mad-Libs style form. No modernly mushy detail is spared, from quirky nicknames to favorite video games.
2. The special details are entered into one of four "card cupid" templates.
3. Voila, a slick personalized Valentine pops out!
These virtual Valentines can then be emailed to that special someone. They can also be posted on blogs, MySpace, and Facebook for those wishing to proclaim their affections to the world-or at least the blogosphere.
About American Stationery:
Since 1919, American Stationery has been a leading provider of personalized stationery and related products direct to the consumer. In these 89 plus years, we have served generations of satisfied customers with our quality and values.
About Portent:
Portent Interactive is a full-service internet
marketing agency located in Seattle, WA. Services include search
engine optimization, pay per click marketing, design, strategic
consulting and analytics. Portent clients include Princess, TVWeek,
BuzzTracker, Bridal Guide Magazine and the Machinists Union.
Portent has been in business since 1995.
###