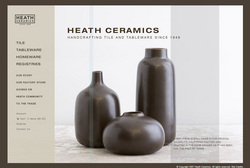 Blue River really captured and beautifully expressed the essence of our brand
Sacramento, Calif. (PRWEB) January 31, 2008
Blue River Interactive Group has unveiled the new website for legendary Heath Ceramics. Designed to showcase color, texture and form, HeathCeramics.com gives Internet audiences a sensory-rich shopping experience, second only to visiting the famous studio itself.
Based in Sausalito, Calif., Heath Ceramics is one of the nation's few remaining mid-century potteries. Founded by Edith Heath in the 1940s, Heath Ceramics is internationally known for its signature hand-crafted tableware and tiles. The Northern California studio has been featured in magazines from Dwell to Sunset, with many of Edith Heath's acclaimed pieces showcased in museums worldwide, including New York City's Museum of Modern Art.
"With a product as beautiful and established as Heath Ceramics, our job was to create a design and technical platform that allowed the subject to speak for itself," said Blue River CEO Malcolm O'Keeffe. "We wanted Heath to have a site that reflected the craftsmanship and integrity of their product."
The new site features a customized e-commerce solution and online registry, allowing visitors to shop Heath Ceramic's full line of tableware, tiles and home ware. Shoppers can also peruse the factory store and tile overstocks.
Ceramics devotees will enjoy the new virtual tours, featuring an insider's look at production and kiln operation. A Heath Ceramics blog, history and community information round out the user experience.
"Blue River really captured and beautifully expressed the essence of our brand," said Cathy Bailey, co-owner and creative director for Heath Ceramics. "The site not only creates a wonderful showcase for our products, but also incorporates fantastic web designs that walk our customers through our company's story, history and values."
To keep the site running smoothly, Heath Ceramics will use Blue River's Sava Content Management System (CMS) for maintenance and updates. Now, Heath employees can manage and edit their new site in-house without additional expense or technical expertise.
About Blue River Interactive Group
Blue River Interactive Group is a full-service interactive agency founded in 2004 and located in Sacramento, California. Blue River builds websites and designs online products that help companies connect with their audiences, simplify business processes and improve bottom-line results For more information visit http://www.blueriver.com.
About Health Ceramics
Founded in 1948 by artist Edith Heath and her husband Brian, Sausalito, Calif.-based Heath Ceramics is a designer and manufacturer of handcrafted, limited production dinnerware and architectural tiles. The founder's contribution to the history of California pottery is celebrated in numerous museum permanent collections, including MOMA in New York. In 2003, the company welcomed new owners Catherine Bailey and Robin Petravic. Today, Heath Ceramics has been in continuous production at the original Sausalito factory location since 1948, employing the same production techniques, equipment, and staff.
###