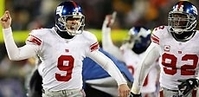 I'm really excited to be working closely with WorkBlast
Phoenix, AZ (PRWEB) January 31, 2008
WorkBlast.com, the industry leader in video resumes, has announced Giants kicker Lawrence Tynes will be the Tempe-based company's new spokesman. WorkBlast will feature Tynes on their web site, and in video advertisements in select locations. Further details of the agreement were not disclosed.
By utilizing WorkBlast's video and rich media resume applications, job seekers have the ability to enhance their text resumes and distinguish themselves from fellow candidates. After Tynes' heroic game-winning kick against the Green Bay Packers on Sunday, the concept of adding his latest achievement to his resume made sense. "I'm really excited to be working closely with WorkBlast," said Tynes. "As athletes, we have always used video to help us get our jobs, and it makes natural sense for others to do so as well. It's uniquely effective, and leaves a lasting impression."
WorkBlast CEO Nick Murphy, is excited to have Tynes on board as well. "Here's a guy that has had to work his way into the NFL through the CFL and NFL Europe with tryouts and video clips, and now he's kicked his team into the Super Bowl. Lawrence is a tremendous competitor and a great role model, and we couldn't be happier to have him as part of the WorkBlast family."
About WorkBlast
Co-Founders Nick Murphy and Travis Cloyd launched WorkBlast in mid-2007. WorkBlast is pioneering technology that will enable employers to quickly search, screen, and hire candidates on-demand via online video resumes, portfolios and more. http://www.WorkBlast.com
MEDIA CONTACTS:
Teressa Foglia, 480.200.5777
This press release was distributed through eMediawire by Human Resources Marketer (HR Marketer: http://www.HRmarketer.com) on behalf of the company listed above.
# # #