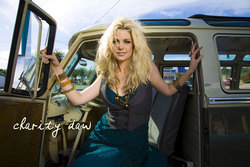 Miami, FL (PRWEB) January 31, 2008
Miami's American Idol and true musician, the talented and beautiful singer/songwriter, Ms.Charity Daw has skyrocketed to grandiose heights and will debut tonight on Fox Television Networks program, "American Idol- Miami". Will Charity make it to Hollywood? American Idol has been promoting the Miami's Idol with Miami's highly anticipated "Idol" and Charity Daw will rock the mic and make her home state proud!
At the ripe age of 23, Charity is no stranger to the entertainment industry. Recently, she has been featured on Miami's Fox Television program, "Deco Drive" for her astounding en concert performance at Sunset Place Mall in Miami, Florida. And due to her Cuban ancestry, Charity has cross over appeal and has appeared on Hispanic television networks Telemundo and Univision.
In 2007, Ms. Daw licensed her album entitled, "Juvenilia" to Bunin/Murray Production, the creators of the popular reality series, "The Real World". The music from "Juvenilia" aired on Oxygen Network's highly rated reality show, "Bad Girls Club" and MTV's "The Real World Denver". Not only is Charity an entertainer and composer, but she is diverse with the gift to create and retail beautiful works of art.
Charity Daw is well on her way to stardom and this is evident by the thousands of daily hits her websites receive and already has a phenomenal following and fan base. She is currently writing new songs for what is to come next. Check out her website at http://www.charitydaw.com to listen to her latest hits.
For press inquiries and interviews contact: Sibrena Stowe Fernandez at #347.270.4904/347.720.8526
###