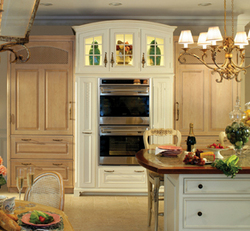 My task is to develop the four walls into a mirror of what they most want to feel and experience when they enter their space.
Perkasie, PA (PRWEB) January 31, 2008
Today's kitchens represent the social center of the home and, according to Kitchen and Bath Design News, as life continues to get busier, the design of the space will continue to increase in importance. In addition to being a storage and work area, the kitchen also doubles as an entertaining area, a gathering area, an office, and a sanctuary reflecting the lifestyle of the homeowner. DRAPER-DBS™, Inc., a manufacturer and designer of unique custom cabinetry and furniture, embraces the kitchen's multi-purpose role and celebrates the space as a functioning work of art, individualized to each homeowner.
DRAPER-DBS™ produces custom-designed pieces to create a space that fulfills an individual's specific needs. Designers listen to the homeowner as they define their space and create a room using company founder William P. Draper's free form from function design concept, an approach that strips all traditional boundaries and rules. The result transforms conventional views of a room to incorporate the cabinetry as truly unique pieces of art. For example, by applying this design concept, facades of necessary items like refrigerators or dishwashers can be interwoven into one seamless design, masked behind the hand-crafted beauty of a custom carved motif.
Draper believes one's home should be their sanctuary. To become that sanctuary, the environment must achieve total symmetry with the homeowner's emotional fingerprint, whether that is traditional or contemporary, eclectic or demure. "I want our clients to realize that the one perfect thing to have in their room is them," explains Draper. "My task is to develop the four walls into a mirror of what they most want to feel and experience when they enter their space."
DRAPER-DBS™ artisans approach projects with meticulous precision and technique, creating pieces meant to be expressions of the homeowner's aesthetic, not limited to traditional form or function. Each piece, artistically designed and hand-crafted for the individual, adheres to classic, time-honored techniques that have become the hallmark of DRAPER-DBS™. The cabinetry's standard structural design begins with premium wood selections. Features include pegged mortise and tenon joinery and hand planed surfaces. Their interiors are finished with birch plywood and drawer boxes are constructed of solid maple and use a soft self-closure system. Hand-crafted maple cabinetry inserts and pullouts, including lazy susans, spice racks and utensil compartments are just a few of the accessory offerings available to enhance the individuality of the piece. The homeowner may change any of these facets to reflect their wishes.
Hand-carved designs and accents represent the company's most personal offerings of original art. These ornamental carvings, textural hand-carved murals, scenes and tableaux are drawn and carved to relate to the life of the homeowner. Pieces that include carved shields, crests and cartouches integrate, expand upon and develop family history. These carvings, sculptures, and murals are often conceived and rendered by Draper, then executed by him and his studio ensemble of carvers, metal-smiths and craftsmen, all under his watchful, design detailed, eye.
"I want people to respond to our cabinetry as they do to the work of an artist. I want to stir the emotion within and take them to their ideal space," explains Draper.
Stain finishes are hand-applied to enhance the wood's allure without concealing its natural beauty. Paint finishes are available in a wide range of standard colors or can be custom matched to just about anything, even a concord grape. Artful distressing and exclusive hand-rubbed glazing complete the cabinetry's distinctiveness.
Additionally, a vast selection of wood species is available including precious woods such as mesquite and yew. Designers can integrate green design through environmentally friendly building materials like reclaimed pine, bamboo and eucalyptus woods. Acid etched metals, leather veneers, and a variety of glass and acrylic inserts are also available as unique accents. DRAPER-DBS™'s extensive list of material options, finishes, inserts, and hand-crafted accents create a wealth of opportunity to highlight the homeowner's emotional fingerprint.
This extraordinary focus on quality results in cabinetry that is more than a storage piece in a work zone. They are a reflection of the homeowner.
About DRAPER-DBS™
William P. Draper is an outstanding Bucks County, PA cabinetmaker, artisan, inventor, sculptor and artist. Many recognize the signature of his artistry by the uniqueness of his finishes, patina, colorations and style. Through exploration and creation of new visions, his cabinet designs reinvent style. His work gives designers new, exciting opportunity to create important living spaces. Simply put, his purpose is to create and express an enlightened living experience that transcends the limits of time.
Celebrating twenty-five years in custom cabinetry, DRAPER-DBS™ focuses on original designs enabling the homeowner and designer to realize their vision. Handcrafted by artisans, each cabinet is created using traditional time-honored techniques such as hand-tooled sculpture, hand-glazed finishes, dovetail drawers, pegged mortise and tenon construction. In addition to kitchen cabinetry,
DRAPER-DBS™ creates original design and reproduction furniture, whole house cabinetry, and authentic architectural millwork for high-end design studios.
DRAPER-DBS™ Custom Cabinetry is available nationwide through designer showrooms. To inquire, call 1-215-257-3833 or visit http://www.draperdbs.com for the authorized DRAPER-DBS™ showroom near you.
###