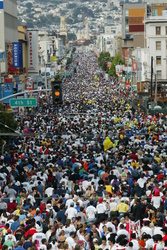 We encourage all participants -- whether you're veterans or newcomers, to take advantage of early registration. We offer great discounts if you sign up for the race before May
San Francisco, CA (PRWEB) January 31, 2008
The days are getting longer and the nights are getting shorter, and that means it's time to start training for the 97th annual ING Bay to Breakers 12K. This world-famous footrace, a celebration of San Francisco's spirit, enthusiasm and determination, invites runners of all ages, backgrounds and levels of athletic ability to REGISTER NOW by visiting http://www.ingbaytobreakers.com.
"We encourage all participants -- whether you're veterans or newcomers, to take advantage of early registration. We offer great discounts if you sign up for the race before May," said Angela Fang, general manager of ING Bay to Breakers.
NEW THIS YEAR:
This year, ING Bay to Breakers 12K will offer a collectible timing chip to continue the countdown to its 100th birthday in 2011. The 2008 chip is the second in a series of five chips celebrating icons along the race course, and features San Francisco's very own "Painted Ladies," a row of Victorian homes on Steiner Street that is one of the city's most famous scenic landmarks. Runners and walkers pass the "Ladies" as they head up the race course's challenging Hayes Street Hill. The chip, worn on the outer laces of the shoe, records each individual's time as they cross the start line and then the finish line. In addition, all registered runners can access an online finisher's certificate the day after the race.
While ING Bay to Breakers has always been dedicated to a fun, safe and responsible race, this year will also focus on the event's push to be "Clean & Green". Revelers and runners are encouraged not only to celebrate this San Francisco annual race but to respect the environment by being responsible with their bottles, cans and other trash.
GREATER BODY EXPO MAKES A MOVE
The ING Greater Body Expo kicks off the Bay to Breakers weekend festivities starting Friday, May 16, at a new location -- Justin Herman Plaza in the heart of San Francisco's Financial District. Located just across the Embarcadero from the Ferry Building, the ING Greater Body Expo is the one-stop shop for all of your race needs. Featuring dozens of exhibitors, displays, free samples, prizes and great bargains on apparel and fitness gear, the Expo is FREE and open to the public. Hours are Friday, May 16, 11 a.m. to 7 p.m., and Saturday, May 17, from 9 am to 7 pm.
The Expo is the last chance to register for the race. Individuals who are already registered can pick up their race packets and timing chips there as well. Race staff will be on-hand to assist with customer service solutions and distribute participant t-shirts.
FOOTSTOCK FESTIVAL
On race day, Sunday, May 20 at 8 a.m., runners will gather to begin the race at the intersection of Howard and Main Street. Runners will finish the course on the Great Highway at Ocean Beach. Immediately following the run, the annual ING Footstock Festival at the Park Polo Fields in Golden Gate Park will feature musical entertainment, an awards ceremony, a costume contest, a food marketplace and an opportunity to rendezvous and celebrate with family and friends. Admission to Footstock is free and open to the public.
ABOUT ING BAY TO BREAKERS 12 K
Headed for its 97th year, the ING Bay to Breakers 12K is one of the world's largest and oldest footraces, held annually in San Francisco, California. The name reflects the traditional course which starts at the northeast end of the downtown area near The Embarcadero (the "Bay" side of the city) and ends at the "breakers" of Ocean Beach.
For additional race information, updates on ING Footstock entertainment and Expo programming, check out http://www.ingbaytobreakers.com , call the ING Bay to Breakers 12K hotline at 415-359-2800. Please also see calendar below.
Media, please note: Photographs and b-roll are available through Natalie Beitashour, Landis Communications Inc., at 415-359-2313.
REGISTRATION
Visit INGBayToBreakers.com to register online or download a registration form.
You can also request a form at 415-359-2800 or at the ING Greater Body Expo.

Early Registration (through March 31)
$44.00 - adult
$39.00 - children under 18
Standard Registration (April 1 to May 14)
$48.00 - adult
$44.00 - children under 18
Late Registration (May 16 and 17)
$59.00 - adult
$55.00 - children under 18
There is no registration or race packet pick-up the day of the race. Registration fees are non-refundable and non-transferable. All events are rain or shine.
Registration fee includes:

An official Breakers participant shirt
Chip timing and official Runner Number
Collectible souvenir chip (the 2008 chip will be the second in a series of five leading to our 100-year anniversary)
Finishers certificate (printable from our website after the race)
Entry to ING Footstock, featuring games, food, give-aways and headliner entertainment
The top 10,000 finishers will be published in the souvenir edition of the San Francisco Examiner (the day after the race)
SPONSORS:

ING
Holme Roberts & Owen LLP
Southwest Airlines
Reebok
MINI
Big 5
Salonpas
Hyatt Regency San Francisco
KRON 4, The Bay Area's News Station
KKSF 103.7
STAR 101.3
The Examiner
AEG
CALENDAR EDITORS, PLEASE NOTE:
WHAT: 2008 ING Bay to Breakers 12K footrace
WHERE: The streets of San Francisco -- the 7.46 mile/12K course starts at Howard Street and Main Street near the San Francisco Bay, runs through the heart of the City, and finishes at the breakers of the Pacific Ocean at the Great Highway along Ocean Beach.
WHEN:
The Race:
Sunday, May 18, 2008
Starting time: 8:00 a.m.
Starting point: Howard Street and Main Street
ING Greater Body Expo:
Justin Herman Plaza
Packet, event T-shirt pick-up, late registration, and health & fitness exhibitors.
Friday, May 16 from 11:00 a.m. to 7:00 p.m.
Saturday, May 17 from 9:00 a.m. to 7:00 p.m.
ING Footstock:
Sunday, May 18 2008
10:00 a.m. - 2:00 p.m.
Golden Gate Park, Polo Fields - Entertainment (TBA)
Southwest Airlines Costume Contest
Sunday, May 18 from 10:00 a.m.- 11:30 a.m.
Golden Gate Park, Polo Fields, Eastern Stage
Battle of the Bands Night
The Independent, San Francisco
April 2008 (TBA)
###