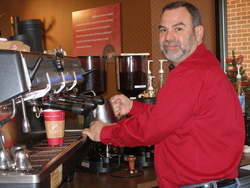 Now one central Ohio coffee lover can enjoy being Barista for a Day.
Columbus, OH (PRWEB) February 8, 2008
In response to Gourmet Coffee Month, CrimsonCup Coffee & Tea, home of The World's Best Coffee, is offering local Columbus coffee lovers the chance to be a Barista for a Day with Armando Escobar, CrimsonCup's CEO (Chief Espresso Officer).
"A barista is a professional who is highly skilled in coffee preparation, with a comprehensive understanding of coffee, espresso, roast degree and espresso equipment," Armando explained. "Now one central Ohio coffee lover can enjoy being Barista for a Day." Coffee lovers may enter the contest by visiting http://www.barista4aday.com. The winner will shadow Armando in the CrimsonCup coffee shop located in Clintonville, Ohio and will learn how to create the magic of a well-trained barista.
Armando is a renowned barista with over 28 years of experience training independent coffee shop owners how to prepare the world's best coffee drinks. Greg Ubert, founder and president of CrimsonCup, witnessed Armando's speed, accuracy, and efficiency when making coffee drinks at The Ohio State University in 1992. Shortly after, Greg hired Armando because he knew that he needed Armando's talents to make The World's Best Coffee a reality for CrimsonCup. Armando's knowledge and palate led to the creation of CrimsonCup's most sought after coffee, Armando'sTM Blend.
CrimsonCup Coffee & Tea is locally owned, with coffees roasted and packaged in Columbus, Ohio. Ubert started the company in 1991 and provides The World's Best Coffee to over 300 coffee shop owners across the country,
Fresh roasted CrimsonCup coffee is available in grocery stores, such as Hill's Market in Worthington and Touch of Earth in the North Market, for you to brew at home or order online at http://www.crimsoncup.com.
Coffee lovers can enter the "Barista for a Day" contest at Barista4aDay.com. Registration for the contest closes February 29, 2008.
# # #