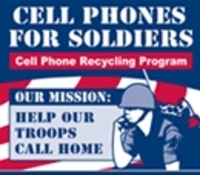 However the need for support keeps growing as more soldiers are sent to the Middle East or are asked to serve extended tours of duty.
Norwell, MA (PRWEB) February 3, 2008 -
Liberty Tax and Cell Phones for Soldiers want to remind you that donating cell phones to help troops serving abroad call home is a tax deduction that can help increase your return. When you donate your old phone, Liberty Tax will donate an additional $5 to Cell Phones for Soldiers.
More than 150,000 troops serving overseas are away from their homes and families. The non-profit Cell Phones for Soldiers is calling on all Americans to support these brave men and women by donating cell phones that they no longer need. Cell Phones for Soldiers hopes to collect over 25,000 cell phones during tax season to help keep troops connected with their families.
"We have been overwhelmed by the generous support of thousands of Americans who have helped our troops speak with their loved ones," says the teens' father, Bob Bergquist. "However the need for support keeps growing as more soldiers are sent to the Middle East or are asked to serve extended tours of duty."
Through increased fundraising efforts, the Bergquist family hopes to raise more than $9 million in the next five years to fund new programs, such as providing video phones and prepaid service to allow soldiers abroad to see their families on a regular basis.
Phones donated to Cell Phones for Soldiers are sent to Michigan-based ReCellular, which pays up to $50 for each donated phone - enough to provide twenty-five hours of calling cards to soldiers abroad.
It's easy to help the troops during this tax season. Simply visit your local Liberty Tax store when preparing your taxes and donate your old cell phone. You can write off the donation. A refund for you and a call home from our troops is a good payoff for all of us.
Local residents can support the collection drive by donating their cell phones at Liberty Tax locations. Visit libertytax.com to learn more, submit your taxes online and donate your old cell phone.
About Liberty Tax Service:
Liberty Tax Service is the fastest growing retail tax preparation company in the industry's history. Founded in 1997 by CEO John T. Hewitt, a pioneer in the tax industry, Liberty Tax Service (libertytax.com) has prepared over 5,000,000 individual income tax returns and currently operates over 2,900 offices throughout the United States and Canada. The company plans to open up to 500 new offices in January 2008.
Liberty Tax Service provides computerized income tax preparation, electronic filing and refund loans. With an emphasis on customer service including audit assistance, a money back guarantee, and free tax return checking, Liberty Tax Service is well known for its strong commitment to its client base.
With 38 years of tax industry experience, Hewitt stands as the most experienced CEO in the tax preparation business, having also founded Jackson Hewitt Tax Service (NYSE:JTX).
About Cell Phones for Soldiers:
Cell Phones for Soldiers was created by Brittany & Robbie Bergquist of Norwell MA. After reading a story about a soldier who ran up a huge phone bill calling home from Iraq, these two teenagers decided to help out. They started by opening an account with $21.00 of their own money. They are collecting cash donations and old cell phones. The cell phones are recycled for cash and the proceeds are used to buy prepaid calling cards for our soldiers serving in the Middle East. Cell Phones For Soldiers is a registered 501(c)(3) non-profit organization. Their efforts have motivated people and businesses around the country to donate to this worthy cause. Their goal is to provide every US soldier with a way to call home for free. For more information, please visit cellphonesforsoldiers.com.
About ReCellular Inc.:
With offices in the United States, Hong Kong, and Brazil, ReCellular Inc. is the world's foremost collector, reseller and recycler of used wireless phones and accessories. We provide solutions for the collection, reuse and recycling of used personal electronics that generate financial return for our partners, quality products for our customers, funding for charity organizations, and protection of the environment. Corporate, charitable, consumer and wholesale information is available at ReCellular.com. Consumer information, including the Cell Phone Data Eraser, charity fundraising programs, and information on donating cell phones, is available at WirelessRecycling.com.
###