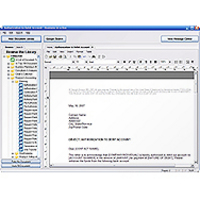 We are very happy to be helping so many people around the world. Having clients in 200 countries represents a great milestone for us
Montreal, Quebec (PRWEB) February 6, 2008
BizTree Inc. (formerly known as Envision SBS), one of the top three providers of business and legal forms software, announced it has reached a new milestone by serving clients in over 200 countries.
Writing is a universal skill that many business people do not possess. Increasing productivity is a need common to everybody. What BizTree offers is software that satisfies both these needs. As a large collection of document templates, Business-in-a-Box is a godsend to many. It includes over 1,200 templates of common business documents like partnership or employment agreements, board resolutions, business plans, legal contracts and proposals. Business-in-a-Box has become a global sensation with users in over 200 countries, and templates available in English and French.
"We are very happy to be helping so many people around the world. Having clients in 200 countries represents a great milestone for us," said Jonathan Defoy, Co-President of BizTree.
The worldwide success of Business-in-a-Box has lead the company to expand its Montreal offices and double its workforce.
Business-in-a-Box
Business-in-a-Box is the ultimate document-writing tool. Including over 1,200 templates of essential contracts, agreements, letters, board resolutions, plans, proposals, policies, checklists and spreadsheets, Business-in-a-Box simplifies and accelerates all your writing tasks. Simply fill in the blanks and you'll be ready to do business in minutes!
About BizTree
Founded in 2001, BizTree develops and markets productivity software addressed to small/medium-sized businesses and home-office entrepreneurs. The company's mission is to empower business people from around the world to reach their full potential. Since its inception, BizTree has been striving to deliver high quality and practical yet affordable products.
BizTree is a privately-owned corporation with offices in the United States (New York), Canada (Montreal) and the United Kingdom (London).
For more information, please contact:
Marc Berouti / Marketing Director
Envision SBS
555 Rene-Levesque Blvd. W., Suite 1500
Montreal, QC H2Z 1B1
Canada
Tel: 514.768.3311 ext. 221
###