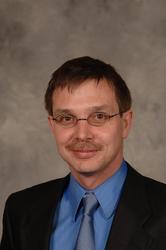 Karl's diverse experience, proven track record, and customer focused management style meant that he was an obvious choice to lead CinciMedia, and our expansion into the US market
Cincinnati, OH (PRWEB) February 4, 2008
E-Sense Group President Andrius Bakutis appoints experienced Cincinnati technology executive and serial entrepreneur Karl Treier to the role of President and CEO of their new US subsidiary CinciMedia. Karl Treier joins CinciMedia from Bluespring Software, a successful Cincinnati based software company where he served for 7 years as CTO and now serves in an advisory capacity; he brings to CinciMedia 22 years of diverse experience in the technology industry including roles in executive management, sales, software development, and internet retail, technology consulting and training services.
"Karl's diverse experience, proven track record, and customer focused management style meant that he was an obvious choice to lead CinciMedia, and our expansion into the US market," said E-Sense Group President Andrius Bakutis.
"I was introduced to the E-Sense Group of companies in late 2007 when they worked on Bluespring's new web site. The more I learned about their capabilities, their talented staff and their corporate culture the more impressed I became and the more convinced I was that we could build a successful US presence here offering their innovative web site design and development, flash development, and 3D rendering and animation services. The E-Sense Group companies boast an international team of over 40 full time staff that specialize in using Internet technologies to support their clients business objectives, and 3D rendering and 3D animation services to support the real estate marketing, construction, architecture and interior design industries. My goal is to grow that team by 5-10 Cincinnati-based staff over the next 12 months," said new CinciMedia President and CEO Karl Treier.
About Cincimedia:
CinciMedia is a member of the e-sense Group of companies and is dedicated to providing high quality web site design and development, Flash development and 3D rendering and animation services to the US market. CinciMedia parent company the e-sense Group based in Lithuania has provided these services to hundreds of companies including marquee clients such as Subaru, Brother, MTV International, and major real-estate development companies including Eika and the Ranga Group. The e-sense Group was also selected to provide web site design services for Vilnius - European Capital of Culture 2009.
URL: http://www.cincimedia.com
###