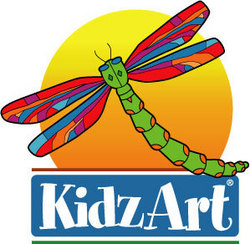 Our students are exposed to a variety of artistic styles, cultural interpretations, and mediums incorporated with elements of brainstorming and critical thinking
New Braunfels, TX (PRWEB) February 1, 2008
Daniel Pink, best selling author and promoter of right brain thinking, recently recognized KidzArt and the company's role in developing resourcefulness, imagination and originality in children. In Pink's book, A Whole New Mind, he analyzes "a new age" where creative thinking skills have become vital to the economy and workforce.
KidzArt, an international art enrichment franchise company that provides fine art education classes for kids of all ages, has a philosophy based on using right brain skills to develop creativity. The company recently invited Pink and his family to take part in a KidzArt class. According to Pink, "I sat in on a KidzArt class with my kids and their friends. We all had a great time. I believe KidzArt is a program that is helping to encourage and support the creative innovators of tomorrow."
During the class, KidzArt director in Maryland, Tracy Feld, led Pink and his family through multiple art exercises including one where each child drew a car's dashboard and a picture of what would be in the rear view mirror. The class brainstormed to come up many different interpretations of the project.
In his book, Pink suggests that artists, inventors, innovators and individuals with creative thinking skills possess a mindset that will thrive in our changing world. Similarly, KidzArt intentionally creates a nurturing, non-competitive environment in its classes where children take part in activites that enhance learning, encourage 'out of the box' ideas and promote strong life skills such as problem solving.
"Our students are exposed to a variety of artistic styles, cultural interpretations, and mediums incorporated with elements of brainstorming and critical thinking," says Shell Herman, KidzArt chief executive officer. "Our philosophy so strongly matches Dan Pink's that we were inspired to show him what KidzArt offers. We also wanted to reinforce the importance of exposing children (and adults) to a simple strategy for becoming more creative and fostering new ideas."
KidzArt employs various ways to inspire and develop students into becoming innovative thinkers. For example, during KidzArt's Creative Thinking Exercise, each student is challenged to create a unique drawing from the same set of random lines or shapes. "It's always interesting to discover the varying degrees of freedom that students demonstrate when facing this challenge," notes Chris Cruikshank, KidzArt president and creative director. "Some students will stay within the boundaries of the assignment and others let their right brains take over and literally draw outside of the box or edges of the paper."
About KidzArt
Founded in 1998, KidzArt is designed to let kids and seniors of all ages explore their inner artistic potential in a safe, structured, non-competitive environment. KidzArt recently ranked in Entrepreneur magazine's Top New 50 Franchises for 2007 and was ranked the Top Children's Art Franchise for 2006. In addition, KidzArt was named a "World-Class Franchise" by the Franchise Research Institute for 2006 and 2007. Franchising since July 2002, KidzArt has franchised units nationwide and growing. To find out more about KidzArt visit http://www.kidzart.com or call 800-379-8302.
###