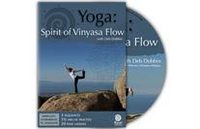 People may think we are crazy to make three new DVDs on yoga when there are literally thousands of other yoga DVDs out there
Santa Barbara, CA (PRWEB) February 4, 2008
Real Bodywork announces the release of three new yoga DVDs, each featuring three-and-a-half hours of yoga footage and detailed instruction. The company has also launched a new Web site, http://www.RealBodywork.com/yoga, to complement the DVD line.
"People may think we are crazy to make three new DVDs on yoga when there are literally thousands of other yoga DVDs out there," says Sean Riehl, founder of Real Bodywork. "We realize that competition is stiff, but the amount of material, professional instruction and low price make all three of our DVDs a tremendous value."
The three new titles now available from Real Bodywork are ''Yoga: Gentle Practice,'' ''Yoga: Gentle Vinyasa Flow'' and ''Yoga: Spirit of Vinyasa Flow.'' The unique guide section on each yoga DVD gives detailed instruction on alignments and benefits of various yoga poses. Each DVD offers multiple sequences that range in time and difficulty.
''Yoga: Gentle Practice'' enables viewers to experience peace and tranquility while gaining flexibility. A great DVD for beginners or anyone new to yoga, the comprehensive DVD features a variety of routines to choose from. In ''Yoga: Gentle Vinyasa Flow,'' a beginning to intermediate yoga DVD, viewers will learn how to increase flexibility and strength while learning to integrate breath with each movement. ''Yoga: Spirit of Vinyasa Flow'' is designed for intermediate to advanced levels. The DVD's three powerful routines combine breath and movement into one continual yoga flow.
Clips from the DVD line are available at the newly launched http://www.RealBodywork.com/yoga. The site also features free yoga videos, yoga flash games and articles on yoga, as well as an online store featuring other wellness DVDs.
About Real Bodywork
Real Bodywork is a leader in the educational massage training arena, and has produced more than 30 educational massage training DVDs. To view Real Bodywork's new yoga DVDs, visit http://www.realbodywork.com/yoga.
Contact:
Sean Riehl
Real Bodywork
85 Vista Del Mar
Santa Barbara, CA, 93109
805 898-1539
# # #