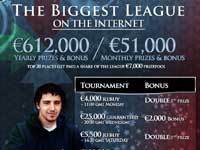 (PRWEB) February 1, 2008
CelebPoker League is now underway with a massive prize pool of more than €612,000 in prize money to be won through their new Poker League http://www.celebpoker.com/league/cp_league.php?PHPSESSID=s74dohf73fuuglcqfc3ub64us2,
The new Poker League will be run as a monthly competition for all CelebPoker players, factoring in a unique points system (which considers the number of participants and level of buy-in at each tournament) to ensure that only the best players rise to the top of the table. Indeed, with a staggering €51,000 to be won every month, the lofty position at the top of the leader-board is definitely a place that poker players will want to finish.
The NEW CelebPoker League is the Biggest Poker League Online. We are fully committed to making our Poker League more Competitive, Challenging, and Fun, for players at all levels with Massive Added Cash Rewards in Selected Weekly Guaranteed Tournaments.
Daily Poker League Schedule
Play in 21 Selected Weekly Tournaments at CelebPoker and you will accrue points that go towards our monthly poker league table; finish in the TOP 20 and win great monthly CASH Prizes......but wait that's not all.
What Can I Win! Double Your Prize Money In Selected Tournaments
Win €7000 in Monthly Cash League Prizes and in addition to this we're adding a further €44,000 in extra cash prizes every month to Selected Guaranteed Tournaments.
Our unique CelebPoker Points System (which factors in the number of participants and level of buy-in at each tournament) ensures that only the best players of the month rise to the top of the poker league table.
This is the Biggest Poker League on the Boss Media Network and for CelebPoker Players only. Win outstanding Monthly Cash Prizes and massive additional cash incentives to be won if you win one of the 4 weekly Bonus MTT Tournaments. We even add an additional €1,000 to the prize pot for any CelebPoker players who finish in the top 5 of the weekly €100,000 Guaranteed Tournament.
Double your prize money.
o Monday 11:00 (GMT) €4,000 Rebuy - Win this and they will double your 1st prize
o Wednesday 20:00 €25,000 Daily Guaranteed - Win this and they will give you a €2000 bonus
o Saturday 14:30 €5,500 Rebuy - Win this and they will double your 1st Prize
o Sunday 20:00 €100,000 Weekly - Finish in the top 5 receive an extra €1,000
These great tournament prizes are available exclusively for CelebPoker players and are not available on any other Boss Media partner. In short, you have to join CelebPoker to get your hands on the cash and play in the league.
'Our main objective was to create an online poker league that is competitive, challenging and fun, for players for players at all levels, and we have produced a great league format with a simple structure and excellent prizes. At CelebPoker we're not afraid to push the boundaries, and the fact that we are adding extra cash incentives on-top of existing tournament prize pools will be a great attraction for many online poker players. Why would you want to play your tournament poker anywhere else?'
With more prizes on offer than any of their competitors, free entry for all CelebPoker players and a league structure that is simple and easy to understand, it's a very good question.
About CelebPoker.com
CelebPoker.com is an award winning poker room offering exciting, fully licensed and regulated online poker. We are dedicated to providing the ultimate poker playing experience to the worldwide poker community, have market-leading player support and over 12 different language options. For more information, please visit: CelebPoker
###